New Beginnings
Chicago semester Spring 2017 is officially over! I had a very positive experience with this program and I encourage those who are considering studying in Chicago to dive in head first as I learned so much about others and myself through this internship. Not only did I grow professionally, but personally as well.
My nursing skills and confidence have changed immensely after working at Northwestern. I am in awe of how much I have seen myself grow in just four short months. I was hired on the General Medicine unit I interned on and will begin working after I pass my state board exam. I am overwhelmed and excited about this upcoming opportunity and I honestly would not be here without studying off campus. I am looking forward to the day that I get to practice as an independent nurse.
As far as personally, I remember being so timid and afraid of Chicago. I grew up in a very small town where everyone looked and had the same ideals as me. With tears running down my face and a nervous heart the night before I headed to Chicago, little did I know how much I would grow to love the city I will soon officially call my home. Through this internship I have learned how to communicate and work with people different from me. I have become more open and understanding of different viewpoints and have been challenged to see others and the world around me in a different light. I love the high energy and vitality the city offers, and have even come to appreciate public transportation. I am a less fearful individual because of this experience and for that I am very grateful for. As I look back, my worldview has changed and so has the way I view myself.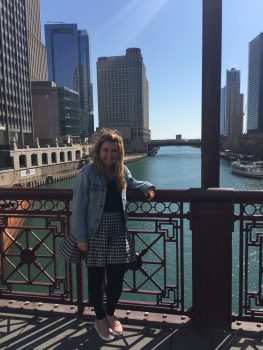 This moment is bittersweet as I close a chapter of my life that has been filled with so many beautiful and of course some bumpy moments along the way. It's hard when we have to say goodbye and remember the friendships, accomplishments, failures, laughs, and tears we shared. It can be intimidating picking up our pen and beginning a new page of our story. But as we look back, lets be grateful and content with the moments we had and look to the future with fresh eyes. Our plans may be tangled and messy with little clarity in site. Lets not forget our skills and talents might be used in ways we never even imagined and where we think we are going might not be it at all. Graduation season is upon us and it is time to celebrate the late nights of studying, hours of preparation, and the courage it took to get where we are. Chicago Semester was an enriching and awesome experience to finish off my fourth year and I am expectant and hopeful that the next four will be just as bright.
Cheers to New Beginnings
Alex