An Introduction
Hi! My name is Alex Riley and I am a senior nursing student at Hope College. It's okay if you have never heard of my school, as most people have not. It is a tiny, liberal arts school in Holland, Michigan. It is a quaint town where Dutch people sell wooden shoes and have a giant tulip festival every May. I have loved my time there over the past three and half years, and for my last semester of school I decided to study abroad in Chicago. Needless to say moving from a small town with familiar faces to a big city was a nerve-racking transition, but it is one that I will never forget. I fall in love with the city of Chicago more each day, and feel as this program is aiding my transition from student to professional immensely.
I a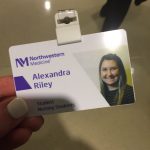 m currently working at Northwestern Memorial Hospital on a General Medicine unit. I work approximately 36 hours a week with a nurse preceptor. I am coming up on my fourth week in the hospital and I continue to see myself grow and become more comfortable every shift I work. The nurses on the unit have been excellent and very welcoming as they educate and teach me new skills or habits to develop. I feel that I am becoming a part of the team as I help treat patients on the unit. I am absolutely exhausted after twelve-hour shifts in the hospital, but the knowledge I am gaining makes the long hours worth it. I truly know what it means when people say that nurses do not have time to go to the bathroom or eat while working. Days at the hospital are extremely long and busy as I feel like I am constantly moving on my feet while managing four to five patients at a time. Sometimes I just need a quick minute to recharge with a good ole graham cracker from the hospital pantry and I am back in business.
As a nurse, I am responsible for educating my patients on their diagnosis, treatment, medications, or scheduled procedures. I find that the more time I spend teaching and caring for others, the more I begin to learn from patients and their experiences. This week I was caring for a client who did not have much longer to live. As cliché as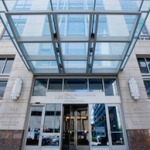 it sounds, the patient's story reminded me how time on earth is so limited and it is important to appreciate the small things. So often am I inclined to focus on the future and what comes next in life. It is easy to do as a twenty-something where there is pressure to know what job to get or where to live after graduation. It seems like society is never satisfied with the present moment. I have a big decision coming up and I do not know if I want to stay in Chicago or move to North Carolina after my internship. I hope that as the months go by, I will have some clarity and maybe by the end of the semester I will decide where I am called to be. For the moment, I am trying to be content with my current situation and enjoy working and studying in Chicago. Stay tuned for more stories and written adventures by me!