Hey, I'm Colton Clark. I'm currently a Social Work student from Hope College here at the Chicago semester. I'm from Holland, Michigan; a town on the west coast known best for it's lakeside views and Tulip Time in May. I have long wanted to live and work in an urban environment, and this Semester has been a great opportunity to do just that. I live in La Casa student housing that lies within the Pilsen neighborhood; which is only 20 minutes by train from the Downtown Loop. I am within walking distance of many shops, supermarkets, parks, and places to eat. Getting a chance to live in a vibrant and diverse community has been a great experience to share with everyone I can.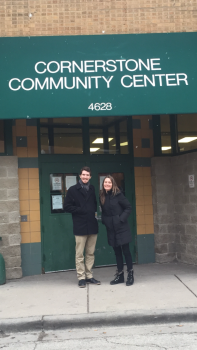 I work at Cornerstone Community Outreach (CCO) in Uptown. A 50-minute commute from home takes me to an agency dedicated to feeding and housing the hundreds of people who pass through the doors every day. In addition, CCO is part of a large coalition in Chicago dedicated to the cause of ending homelessness in Chicago. My work changes by the day, which really helps me to get a full picture of what working fo
r the poor looks like. On Mondays and Fridays I work in the men's day program and assist the case managers and the clients we serve in finding the services they need. One of the case managers I work closely with frequently tells his clients that he views this place as a stepping stone to better things, and if they work with him they will get housing and work. Working with people, hearing their perspectives, and learning about their lives gives a perspective you cannot get in the classroom.
During the rest of the week I am in the front offices, seeing the behind the scenes work that needs to be done to keep CCO open to the neighborhood. I frequently help write grants, secure donations, update our databases, and do research into the policy that impacts our operations. In the face of possible cuts to HUD, it is extremely important to work hard to find resources to be able to serve the vulnerable people we serve daily. This experience has been invaluable, and has not only shaped the way I see non-profit work but has given a better understanding of the people we serve daily. It is not always easy, nor is it always happy, but the challenges are worth it to know that we are playing a part to break the cycle of poverty of hundreds of people every year.