BRANDING, HATS AND SHAKE SHACK
My Monday started out the same as usual. I took the train to the Fulton Market neighborhood and started on my trek to the Soho House. Once there I made my way behind the big, elaborate bookshelf on the far side of the cafe and onto the plush-paneled elevator that took me to the 5th floor. When I finally arrived at our table, I was promptly introduced to a designer named Kwame. My supervisor went on to tell me that he has worked with Dwyane Wade, Denzel Valentine, and has even rubbed elbows with LeBron James. In this meeting, I also learn that he has a new design for one of the coolest hats I've ever seen. He describes it as a mix between a baseball cap and a fedora. It was clear why many people want to work with him.
I'm also still trying to grasp the whole idea of "branding." When people ask me what I do in this lovely city, I have a hard time fitting it into a box and giving them a short description. I've found that many don't actually walk away from that conversation with an answer. My supervisor and I have had many conversations this week on the topic and the way I see it, as long as I understand, that's all that matters. I still wish to get the point across to others, though. This world of sports marketing, athlete endorsement, and business management is too riveting and exciting not to share with the world. So, for those of you reading, I'll put it this way: branding is so very important and everyone has a brand. It's how others' see you and what kind of image is put out into the world. While to some, it might not be important how others see you, to me and many others, it is very important. It's what people talk about in relation to you when you are not there. It is how you will be remembered and what you will be remembered for. Most importantly, it is about what you want to put out into this world.
Besides the deep connection between life and the professional world of branding, I also learned this week that I love the food in this city. In my free time, I went and explored closer to Michigan Ave. This was where I discovered the best cheeseburger ever: Shake Shack. Your argument is invalid. Anyone who knows me, knows my favorite food is simply a cheeseburger and this place is a danger zone for me because I could easily get every meal he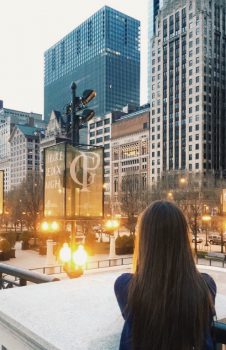 re. After my lovely meal, I ventured over to the Bean and was able to really take a good look at this beautiful city I am blessed enough to currently call my home.
My goal this week is to continue to gain knowledge and firsthand experience in the world of branding, as well as eat a Shake burger again.