The Greatest City in the World
After the week I had, I could leave Chicago right now and be completely happy.
I made a lot of phone calls, typed many emails, and learned that the world of PR and branding takes a lot of grind, but it all pays off. That's exactly why I'm here too! To work hard and continue to strive for the end goal. One could say that making great, lasting, and genuine relationships along the way is a plus, but to me it's part of the job. Not in the sense that it's hard "work" to make these relationships, but rather that it's icing on the cake that is the Windy City. I say that it is part of the job because in this particular field of work I have found that genuinity and sincerity between the company and the client is vital and how all business should go. For example, I have recounted numerous instances where my supervisor has interacted with her clients and I have noticed they treat her more like a friend than someone they have hired, and likewise from her end. It's what sets LW Branding aside from other branding agencies. Rather than strictly having a boat-load of clients in order to gain more recognition, this agency strives to be able to have a personal connection with any person or group they work with. It's like applying the phrase, "I'd rather have four quarters than 100 pennies," to the business world.
Now, I've reached about the halfway point in this program and have so much to show for it based on what I have learned and the experiences I have had. However, I'd be lying if I said I do not get homesick at least once a week. I was thinking the other night how I could get over these feelings in order to not let them cloud my fun times and tell others how to do the same. Those of you considering being apart of Chicago Semester may be saying, "but Libbie I get homesick on the daily and I have a severe fear of missing out on what's happening back at my college!" Well here's what I have to say to that: Do Chicago Semester. Have one of the greatest experiences of your life. And when you start to get those feelings, remind yourself that you are in (one of) the greatest city in the WORLD! Nothing tops that!
Did an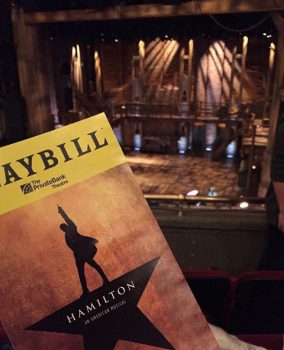 yone catch the reference in that last part? Well it has to do with why I've had the greatest week ever. I got the opportunity to see Hamilton this weekend. Yes, that's right, the Broadway production that won 11 Tonys this past year. I GOT TO SEE IT. It could not have worked out better and I could not be happier about the experience. The production combines two of my favorite things ever: history and musical theatre. It tells the life story of one Alexander Hamilton solely through music and choreography. One of the many songs tells about the time and place (New York, late 1700s) and appropriately, the actresses belt out about, "the greatest city in the world."
Although two different places, I can relate to the feeling of excitement and eagerness of being in an awe-inspiring metropolis.