Fall Giving Campaign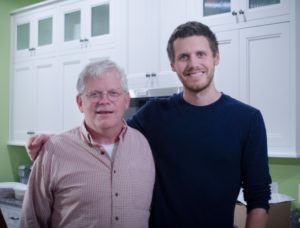 The Houtsmas' Chicago Semester Story
Our Fall Giving Campaign letter features Marcus Houtsma '09 and his family's Chicago Semester story.  Their story begins with Marcus' parents, Elroy and Mary, who participated in what was then the Chicago Metropolitan Center in 1980. Elroy notes that he and Mary were the first married couple to complete the program. Elroy interned at Duggan & Clessari, a CPA firm in the loop and Mary at 1st National Bank of Evergreen Park. Marcus' siblings, both students at Dordt University, followed in the footsteps of their parents in 2007. Rosa, an Accounting and Business Finance major interned at Duggan, Kenning & Gemini, LLC. Lucas, a Finance major interned at Griffin, Kubick, Stephen and Thompson.
Upon hearing life-changing stories from his family's time interning and living in the city, Marcus enrolled in Chicago Semester in 2009. His story began with adventures on the CTA, with new friends from a diverse group of colleges and universities and with an internship at Mainstreet Advisors. Marcus' internship gave him significant opportunities to develop skills in communication and relationship building, which helped jumpstart his career at FutureCeuticals. In 2016 this pathway inspired him to build KOYAH, an innovative health food start-up which helps make high quality fruit and vegetable products more accessible.
Marcus' story embodies the entrepreneurial spirit that Chicago Semester is celebrating during our 45th year, inspired by generations of students eager to take a risk and begin new stories here in the city. In this spirit we have launched a fresh new brand, moved offices to 1871, an innovative, collaborative workspace in the Merchandise Mart and begun hosting classes in neighborhoods across Chicago, using the city as our campus. These endeavors are not possible without your generous support.
When you give to Chicago Semester, you make these stories possible for our current students and thousands more in the years to come. When you support Chicago Semester, you partner with future alumni like Marcus who are committed to investing deeply in their communities as they serve joyfully and fearlessly on their vocational journeys. Your gift this fall will support:
Expanded internship options through tracks in Entrepreneurship and Architecture & Engineering for our growing summer program.
A new pilot micro-internship program that reaches students who may not otherwise be able to participate in our traditional program model.
Development of a new professional development curriculum to support students in their transition from college student to professional.
This year you have the opportunity to double the impact of your donation.
All gifts received this fall will be matched dollar for dollar, up to $10,000, by a generous group of Chicago Semester alumni and friends with hopes of inspiring you to give. This team of donors is sharing their gifts with a deep desire to see the program serve future generations of students as they gain real-world experience in the city of Chicago.
Join the story today by making a gift to Chicago Semester. Use the tear-off giving form and envelope or contribute online at donate.chicagosemester.org.
In gratitude for your story,

Mackenzi Huyser, PhD
Executive Director
P.S. Your gift to Chicago Semester will be doubled, directly impacting students during their Chicago experience.