The program has signed a lease for a new office space at 1871 in the Merchandise Mart. After 15 years at our location at 11 E. Adams we will move to this innovative, collaborative workspace in mid-June. This move provides significant opportunities for the program to move forward in our strategic priorities to increase our visibility, build strategic partnerships and adapt our program model.
Tell me more about Chicago Semester's move
Why are you moving? 
Chicago Semester has had office and classroom space in the Chicago Loop since 1983. In 2004 Chicago Semester moved to its second Loop location at 11 E. Adams. In the last several years we've seen our use of this space change. Today students move in and out of our space on a regular basis using laptops and cell phones to communicate with staff and submit their assignments. Faculty and staff are also more mobile, making connections with organizations and partners around the city and working collaboratively with one another. Our current space with individual and private offices, computer lab and dedicated gathering and classroom spaces is not used in the same ways it was 15 years ago. To that end, our Policy Board (representatives from our six founding colleges) has made the decision that it is time for Chicago Semester to relocate to a new space more conducive to the changing landscape of higher education and one that assists us in moving forward on our strategic vision to engage more deeply with partners in the city.
Where are you moving?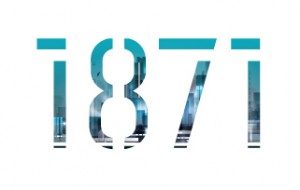 We have made the decision to move to 1871, an innovative, collaborative workspace in the Merchandise Mart. 1871 is a non-profit organization founded in 2012. The name, 1871, represents the year of the Chicago Fire, and its purpose is to bring together innovators who will shape the future of our city. Moving to 1871 will provide new networking and professional development opportunities for staff and students. Students from all majors are expressing an increased interest in entrepreneurship and innovation. This new space will be a draw for students interested in these ideas and a space that can nurture that interest for other students. Just as our students are expressing more interest in innovation, higher education is also at a point of innovation. We see this moment as the opportune time to move to a space like 1871 so we can think in new ways about our work and what opportunities are next for Chicago Semester.
What is a collaborative workspace? 
A collaborative workspace places its focus on creating spaces for collaboration vs. private or individual work. At 1871, this collaboration can be seen in how the space is arranged but beyond that in the ways in which members in the space interact with one another. One of the collaborative features we are most excited are the daily workshop offerings ranging from topics on marketing via social media to data analytics and the open mentor office hours which give members guidance on specific questions. As we move forward in our strategic plan to increase our visibility, develop strategic partnerships and adapt our program models a collaborative workspace like 1871 seems to be a perfect fit.
How will you contribute to the 1871 eco-system?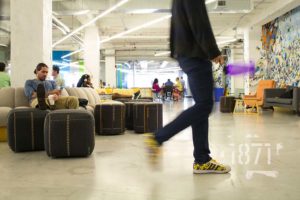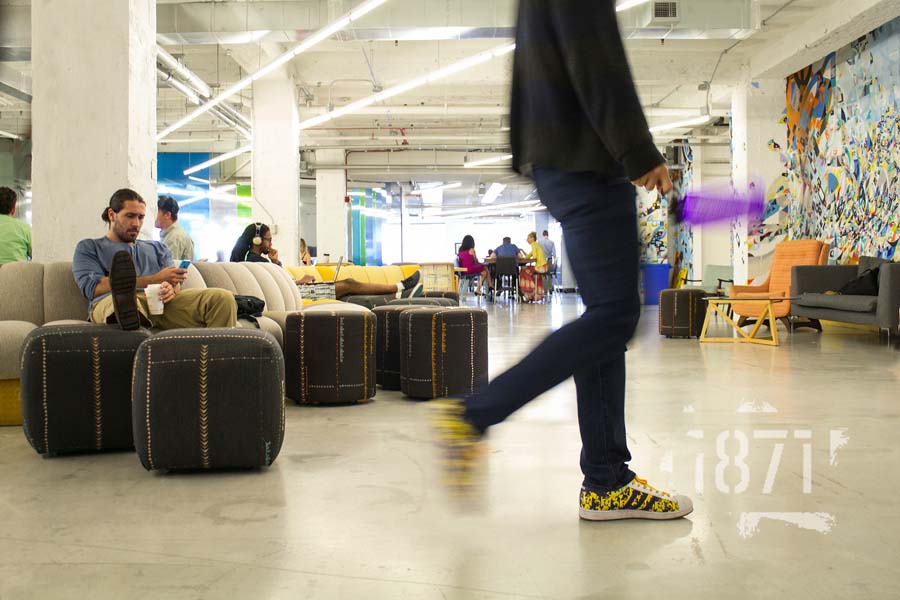 We hope to be a collaborator, thought partner and resource for the companies and colleagues we meet at 1871. While we expect that we will have a great deal to learn from many of these companies and colleagues we meet, we also think we can offer something. Chicago Semester has over 45 years of experience running a top-notch experiential education program and we hope that we can collaborate with companies who may have an interest in learning some of the lessons we've learned through this work. We'd love to share what has worked for us as well as partner with companies as they think about welcoming students or interns into their work to maximize this learning opportunity for students.
Where will classes be held? 
The city is our campus! We will be holding classes at various places throughout Chicago. Professional Seminars will be held at 1871 and the Erikson Institute (451 N LaSalle). These spaces allow for classroom space as well as areas for students to engage in community with each other. Our other courses will be held in various locations throughout the city, determined by the professor. Professors will travel with students to these locations using the travel time as an extension of the learning. Broadening our classroom space to Chicago's 77 neighborhoods will give students confidence in navigating city-life and a deeper understanding of the diverse landscape of Chicago.
Where will you hold orientation and community events for students and also host visitors and guests?
With this move we are intentionally using a variety of spaces around the city for our work. For example, we will have portions of our orientation at 1871 and portions at the Erikson Institute, a higher education institution 3-blocks from 1871. We will use restaurants and creative event spaces through the city for community dinners and other student life events. We will often host visitors and guests at 1871 but also be more flexible to set up meetings and opportunities for collaboration where guests are located around the city.
How will Chicago Semester students be impacted by this change?
We expect that students will be excited about this change as they will have the entire city as their campus during their Chicago Semester experience. Students will still spend a majority of their time at their internship sites, apartments and exploring the city with their peers. On class days students will be able to gather at 1871 or the Erikson Institute before and after their classes, allowing them to build a strong sense of community among their peers. We will also continue to host many student life events throughout the semester, giving our students an opportunity to interact with one another in spaces around the city.
How will Chicago Semester students engage with Chicago Semester staff in the new office and classroom space? 
Staff will continue to be available to students at our office and classroom spaces. Students are always welcome to visit staff at 1871 and staff are available to connect with students across the city. Staff will be present at 1871 on Tuesdays when nursing students and student teachers meet for their professional seminars and staff will be present at the Erikson Institute on Wednesdays when social work and interdisciplinary students meet for their professional seminars. Staff will continue to connect with students outside of classes at regular student life events and at their internship sites.