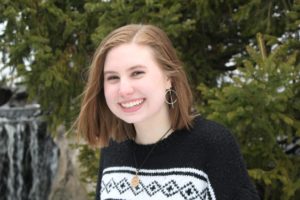 Allison Raddatz '20, first learned about Chicago Semester when she was a prospective student on a visit to Trinity Christian College (IL). Allison had dreams of attending a school in the city of Chicago, but Trinity's campus just felt like home. Allison's admissions counselor told her about Chicago Semester and she loved the idea of being able to live for a semester in the city. While at Trinity, Allison's professors emphasized the importance of a meaningful internship and how it could shape her future career in marketing. This reinforced her desire to participate in Chicago Semester and she applied for the Summer 2020 program. When COVID caused the program to shift from in-person to remote, she was disappointed as she looked forward to experiencing the city as a young professional. However, Allison recognized that even a remote internship could help her build a network, give her real-world marketing experience and benefit her professionally.
Chicago Semester helped Allison secure an internship at ConnectCareHero, a tech start-up company founded by Chicago Semester's 2020 distinguished alumni award recipient, Osvaldo Montelongo '11.
Allison was tasked with overseeing ConnectCareHero's social media accounts. Allison managed four different social media platforms, created relevant content and made timely posts. Allison had excelled in her marketing courses at Trinity, but ConectCareHero was her first professional internship and managing a company's social media presence was a significant job. At times it felt like an overwhelming responsibility and she was anxious she would make a mistake. She was also nervous that she would not measure up to her supervisor's expectations for creating engaging content for viewers.
During the experience, Allison collaborated with supervisors, Osvaldo and Co-Founder and CMO, Turno Ngwayah '11, and together they mapped out a marketing strategy with goals and metrics. This guidance and collaboration helped Allison understand ConnectCareHero's marketing goals and gave her creative license to produce original and timely content. She created posts such as Thoughts from Our Founder, client highlights and weekly video posts titled #KnowledgeWednesday to share healthy living tips such as picking up a hobby or joining a club.
In her weekly professional seminar through Chicago Semester, Allison shared growth in professional communication, organization, time management and decision-making. She shared that with each new project, she felt more confident to share her ideas and make independent decisions.
Allison's supervisors also noticed her growth throughout her internship and recognized her as an essential member of the ConnectCareHero team. After completing her Chicago Semester experience, Allison was offered a part-time position as lead Digital Marketing Manager. The marketing skills Allison gained through her internship, paved the way for her to land this job opportunity and emerge as a professional in the field of marketing.