Hi again! So here we are, already in December with the semester all but finished. A quick snapshot of the second half of the semester…
My internship at the Children's Place has wrapped up and I have transferred the families on my caseload to other interns. I have had the chance to experience ethical service termination with clients, making sure everyone will still get what they need from the agency after I leave. I also finished leading socio-emotional groups in some of our preschool classrooms, which has involved a lot of lesson planning and application of group engagement skills. My internship has been absolutely wonderful and has shown me that 1) I can work effectively in a full-time social work environment and 2) I really love working with these families. I graduate in a matter of days and, given how well my field placement has gone, I am looking at jobs in related Head Start programs.
My roommates and I have diverted ourselves with more of the excitement that Chicago has to offer. A small group of us recently visited Daley Park to see the Annual Christmas Tree Lighting, and we enjoyed every minute of it. We crowded up against the tree with about three hundred of our closest friends in the pouring rain, and were surprised to discover that the tree lighting includes fireworks. It was awesome.
In the midst of all this excitement, I'm finding myself feeling a bit like this photo: a mix of joy and worry (mostly worry), not quite sure what to do with myself as graduation is fast approaching.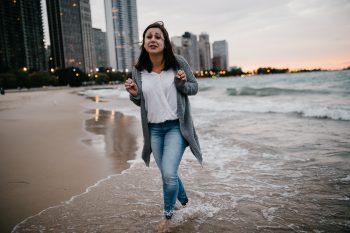 Chicago has been so many things to me, but above all, it has been a place of growth. This semester I have stretched and changed, both personally and professionally. And that is all so very good, but there are moments when it's hard. Moments when I felt uncomfortable or a little incompetent, moments when I was unsure of my professional abilities, moments when I wanted to throw in the towel. I am so incredibly thankful for those moments; they have brought me to a place of peace and somewhat-better preparation.
I am grateful that this semester has helped me figure out how to navigate the city, work full time, eat weird food, attend random music festivals, and do just about everything in between. I have begun the process of finding my professional self and, most importantly, figuring out what I need as I become more independent. I'm at a point where I happily call Chicago home.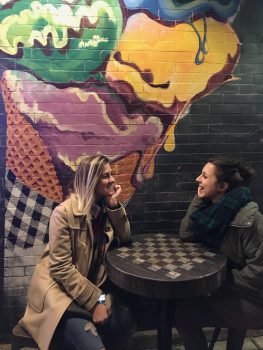 Shameless plug: if you are even slightly interested in Chicago Semester, just do it. You won't regret it.
Abby