Greetings from the not-as-snowy-thank-goodness Gold Coast!
As crazy as it sounds, my semester in Chicago is about halfway done! It continues to amaze me how quickly time flies, but, as they say, time flies when you're having fun!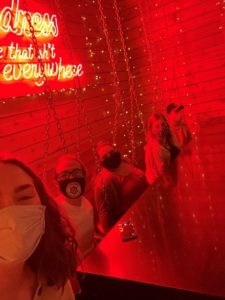 My internship at Innovative Express Care is continuing to teach me all sorts of new things! I am mainly taking vitals, swabbing, and vaccinating, all skills I know will be helpful in the future. I have also gotten to shadow a bit in the lab and help run the rapid tests! It has been so great to be helping out and providing a service during the pandemic. I am building relationships with coworkers and getting great advice about what my next steps should be! The days can be long and tiring, but the experience is worth it!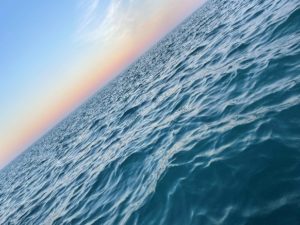 Classes have also been going well! I started reading a new book called Poor Millionaires and it is looking like we will begin to be able to meet in person! I was even able to go to the Merchandise Mart for the first time this last week, where I think I found one of my new favorite coffees at Marshall's Landing! The Merchandise Mart is a commercial building right along the river and home to the Chicago Semester office space. It boasts 4 million square feet and was the largest building in the world when it opened in 1930. It even used to have its own zip code. The space is huge, and the architecture of the building is stunning.
In addition to my internship and classes, I have had more opportunities to get out and explore more of the city. I recently bought a fish, a blue beta named Frankie and I went to Goodwill to get him a super cool fishbowl! While on the way to the store, we passed a Jamaican restaurant that I added to my list of places to try. I also turned 22 a couple of weeks ago and a couple friends and I went back to Happy Camper to celebrate with a couple of appetizers! We got our picture taken on these cool tire swings that were actually seats at a small bar. I have been back to the lakeshore and was able to capture some great pictures! The color of the water was a gorgeous blue and the sky was a rainbow of other colors.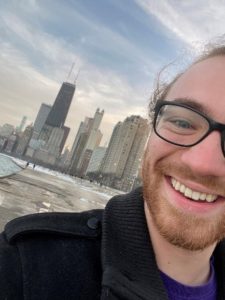 The temperatures have warmed a bit and much of the ice that was there before is gone now making it nice to be outside. I have also been trying to use my instant pot more and I have found a great website with tons of easy instant pot recipes. Some of the ones I have tried so far have been for chicken breast, a really tasty bean-less chili, and a fantastic chicken noodle soup. I have enjoyed getting to cook more and more on my own and I have so many more recipes I want to try!
I have enjoyed getting to know more of the other Chicago Semester students too! I have had opportunities to grab coffee or meals with others, ride the CTA, take walks, or just chat and get to know each other. A couple friends and I have been watching the new episodes of WandaVision as they debut and a few of us have started a weekly bible study, something I have missed since coming here. One of my friends also took me bouldering for a couple hours one night which was challenging, but so much fun!
I still cannot believe how fast this semester is going, but it has been such a blast and I know it is only going to get better as the weather gets warmer!
Until next time, be blessed and a blessing.
For more pictures and updates, visit my personal blog at https://aphelps1699.wixsite.com/thewordonthestreet