Greetings from the sunny Gold Coast and happy late St. Patrick's Day!
Being in Chicago for this time of year has been quite the experience! Last weekend, the St. Patty's Day fun began with celebrations all over the city. Businesses, restaurants, and people were decked out with all shades of green and live music was everywhere. Plus, the weather was fantastic! The best part was getting to see the Chicago river dyed green! All weekend it sparkled a beautiful, vibrant green and attracted many visitors. I think it was the busiest I had seen the city since I arrived in January!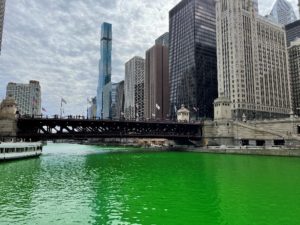 Classes have continued to go well. I have enjoyed getting to meet in person and now spend part of my Wednesdays in 1871! I am learning more and more about all the different aspects of a vocation and how to apply those ideas to my life. In addition to this, I have seen a few incredible art performances including the Sun and Love Opera, the Chicago Artists for Action, and a story by Brian Quijada.
The more time I spend at my internship the more I love being there. It was definitely an adjustment, but as I have built relationships with coworkers and gained more experience in the work, I feel comfortable with where I am at. I think my favorite part of the internship is the interactions I have with the patients. Our time together may be brief, but in those few moments I get with people, I build a connection which has been so cool. I love getting to hear stories about their life. I love laughing at the jokes they tell. I love seeing the smiles and the joy we help provide. This experience has been a blast for me and every day I feel affirmed in my decision to go into the healthcare field.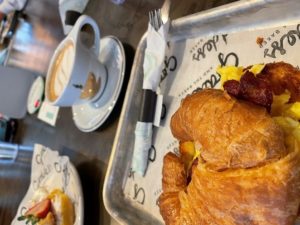 As I usually do, I have also found opportunities to get around and try some new things. A couple weekends ago a friend and I visited another friend down in Bourbonnais, which is just south of Chicago. It was a weekend full of fun adventures and home cooking. I was introduced to a couple new coffee shops, drove around the campus of Olivet Nazarene University, and even went to an in-person church service. The next weekend was St. Patrick's Day weekend which was a blast! I made a trip to Gotham Bagels which is just around the corner from Canterbury. I have yet to order a bagel, but the coffee was really good.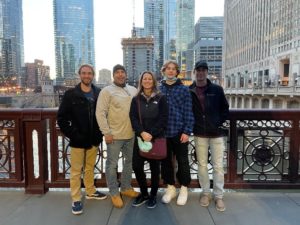 My family also came to town, so we made a few stops to local restaurants like Velvet Taco, Intelligentsia, and Portillo's for our meals. At the end of the weekend, I met a few friends for brunch at the Goddess and the Grocer on Grand St. I ordered the turkey bacon and egg croissant and the oat milk Nutella latte. Both were spectacular and I highly recommend! I also stopped for a cookie skillet at Lou Malnati's pizza with a couple friends later that night and I think I can safely say this was one of the best things I have tried yet! For St. Patrick's Day on Wednesday, a few friends and I got together for a traditional meal of corned beef and vegetables. I had a recipe for corned beef in the instant pot and it turned out amazing! We even had the ingredients to put together Reuben sandwiches. It was a fun night to hang out and catch up.
I still cannot believe we have already reached the middle of March, but I am having so much fun in the city! There are a number of upcoming events I am looking forward to and still many food places to try. I know the next few weeks will go by fast, but I am so excited for what is still to come!
As always, be blessed and a blessing,
Don't forget to visit my personal blog at https://aphelps1699.wixsite.com/thewordonthestreet for more information and pictures!