Greetings from the rainy Gold Coast!
It is certainly springtime in Chi-town! We had a couple of wonderful weather days, but the last week or so has been pretty rainy and cloudy. However, when it was nice, I did have the chance to spend some time outside which was awesome, and the vitamin D was much needed.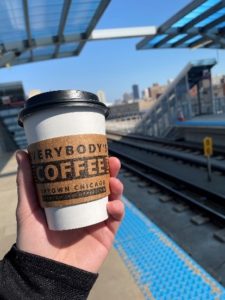 Classes are winding down as we approach the last few weeks (which is still blowing my mind). I've got a few final projects I am currently working on and we are continuing to meet in person. We have continued our conversations about how our communities shape our vocations and we have talked about how all the different people in our lives can have an impact on what we do. One of our assignments was to create a podcast about our vocational journey, so if you are interested in hearing about mine, the link for that is below! We have also watched a couple of great musical performances for Arts in the City class and were able to go to another in-person event at Aerial Dance Chicago, a dance studio in Irving Park.
Work at IEC is going well, but it has been slower lately. It was pretty busy after Easter weekend and when spring breaks were ending as kids and parents needed clearance to go back to work or school, but it has since slowed down. I cannot believe my time is almost up with IEC! I truly have enjoyed the experience and I know I have learned so many great skills I will be taking with me!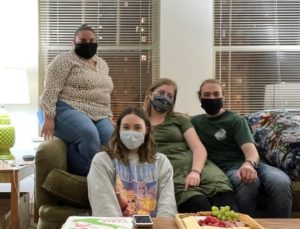 As always, there is fun to be had while in the city! I did not go home for Easter, but I did have a great weekend here. I had Good Friday off and went out to grab coffee from a couple places I had not yet checked off my list and they were awesome. It it came with a great ride on the brown line which has one of the coolest views. I had a friend stop by later that night and we were able to grab dinner at Hopsmith on Division. I had a phenomenal Nashville hot chicken sandwich! It's so great having a number of a having a number of restaurants close by because later in the week I also was able to try Butch McGuire's for the first time. They have awesome waffle fries.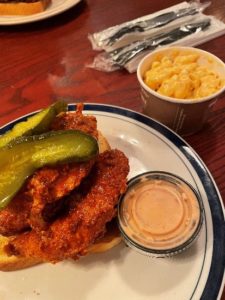 On the Saturday of Easter weekend, the Chicago Semester bought a couple of us coffee and we spent the afternoon completing a scavenger hunt around the city! Easter Sunday was a chill day. After going to a service at Harvest Bible Chapel, a few of us grabbed brunch from The Stray Hen in Lincoln Park and enjoyed our meal in the park. Later that night a friend and I made pizza from a kit we had bought at Trader Joe's. That was so much fun! The rest of my week consisted of grabbing coffee with people, making dinner with friends, FaceTiming a few people from home, and watching a few movies.
This past weekend, my girlfriend Sophia came over and we took a trip to the Garfield Park Conservatory. We didn't go inside because we needed reservations, but the outside was pretty, and we got a good walk in. I ended this week with a dinner at Budlong Hot Chicken which has great hot chicken tenders and macaroni and cheese! It's even better when it's dipped in their spicy comeback sauce! It's a place a friend and I saw on TikTok and I love hot chicken, so I knew I needed to go!
Soon we will be celebrating all the accomplishments of the semester and begin thinking about the transition out of Chicago. We started with the CS awards banquet and celebrated with pizza and Jeni's ice cream on Friday! I am excited to be home for a bit, but I have also started to think of when I can come back because I know I want to!
Remember, be blessed and blessing and for more information and pictures check out my blog at https://aphelps1699.wixsite.com/thewordonthestreet
Podcast link: https://anchor.fm/andrew-phelps33/episodes/Mapping-My-Vocational-Journey-eulge2