Greetings from the snowy Gold Coast! My name is Andrew Phelps and this is my blog "The Word on the Street". I am a senior biology health major, originally from Spring Arbor University in Spring Arbor, Michigan. My goal is to become a pediatric DO and to help me get there I am completing an internship at Innovative Express Care. This organization is very similar to an urgent care and is located in the Lincoln Park neighborhood. Since we do still find ourselves in the midst of a global pandemic, a large part of the clinic's work is conducting COVID-19 testing. Innovative Express Care was actually one of the first organizations to begin mass COVID-19 testing back when it became available. More recently, IEC has also been essential in distributing the COVID-19 vaccination. (Speaking of the vaccine, here's a fun fact about it! The Pfizer headquarters, the company that makes one of the COVID-19 vaccine, is located just north of my hometown of Vicksburg, MI in Portage, MI.)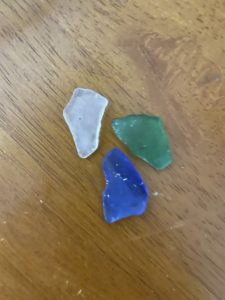 This week was my first couple of days at the clinic. There was a lot of information to take in, but it was so cool! Most of my time was spent shadowing and learning all IEC has to offer. I was shown how to scribe, how to conduct and prepare a COVID swab for testing, how to collect vitals and patient information, and I even got to see the COVID vaccine being given. On the first day I was able to actually interact with patients and do the vital collection! I was also able to meet Dr. Rahul Khare – the founder and CEO of Innovative Express Care! It was a ton of information to take in, but I really like the people I work with and I am excited for what is to come!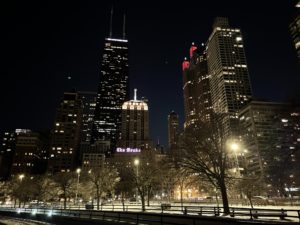 Besides the internship, this semester in Chicago is a great chance to be able to explore and get to know the city. I was quarantined for quite a bit of time, but I have gotten out a few times to doing some of that exploring. I already have a list of restaurants and coffee shops to try, as well as a number of stores and small businesses I want to visit while I am here. I have gotten over to the lakeshore a couple of times which has been great for finding beach glass and good views of the skyline, especially at night. However, this past weekend, Mother Nature brought in lots of snow, which it did for over 24 hours! I decided to venture out on Saturday, and it was snowing so much it blotted out my view of the skyline! Some of these can be seen in the pictures.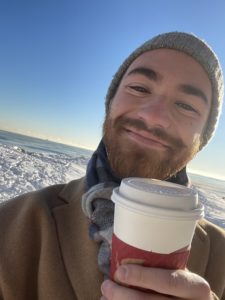 I got out of quarantine on Wednesday and the first thing I did was make a coffee run! I was really missing my coffee shop cup of coffee. Before class I ran to La Colombe, a shop just down the street from Canterbury. Before logging onto Zoom I enjoyed a couple sips at the lakeshore and enjoyed the crisp morning air. Later in the evening a few friends and I stopped at another coffee shop called Intelligentsia, where I ordered a delicious Puerto Rican inspired drink. After that, we headed to Wicker Park and explored Milwaukee Ave. We stopped in a couple vintage stores and a records store. During my lunch break on Thursday, I walked down the street to a coffee shop called Herb and Alchemy where I ordered a cinnamon and licorice seasonal blend coffee. It was unusual, but so good! I have so many other places to try, but I'm glad I have already crossed a few off (and added a couple more)!
I cannot wait for what the rest of this semester has in store! For more pictures and specifics on some of the places I have visited, visit my blog site at https://aphelps1699.wixsite.com/thewordonthestreet
Until next time, be blessed and a blessing!