Final Moments in the City
Three days…Three weeks have quickly become three days until the end of the semester. The end of my experience in the city. The end of nursing school.
A beginning of my *official* adult life. The beginning of a new start. The beginning of finally contributing to society in a larger way. Don't get me wrong, the last few years have been a perfect blend of sweet moments and wrestling to keep my head above water. The thought of going out into the world where I feel I've been well-prepared eases the anxiety of these new beginning stages of life. Despite my looming to-do list that continues to grow, I have been finding joy in the singular moments of peace and busyness during this last week. To be able enjoy each second left in the city has been my goal these final days.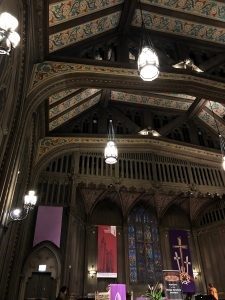 In the beginning of April, there was supposed to be an event with the Chicago Symphony Orchestra, but they went on strike. With main performance being cancelled, I went to a lunch-break concert at the Chicago Temple. The sanctuary was so beautiful as a quartet performed some of the greatest composers: Brahms, Mozart, Beethoven. It was an excellent break in the day.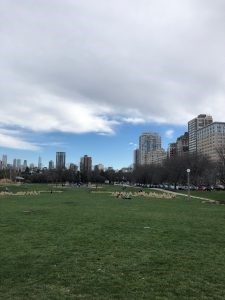 I was roughly three weeks from the end of the semester, and I still hadn't visited the Lincoln Conservatory or Park Zoo. So, I decided to make a day adventure out of it. Since my apartment is only about 1.5 miles away from both, I decided to enjoy the warm day and walk there. While I had been to the Garfield Park Conservatory, I enjoyed the small, quiet spaces of Lincoln Park. I love taking an entire day to sit with my own thoughts and enjoy the beauty of God's creation around me. There is so much green space in the city, which surprised me, that I've been trying to take advantage of it as much as I can. Being not the best at directions, I wandered around the zoo for a couple hours, just enjoying each of the exhibits. For the history buffs out there, the Lincoln Park Zoo has been around since 1868 thanks to Lincoln Park Commissioners. Since then, it has expanded its conservation efforts to a variety of exotic animals. As you might be able to tell from the picture, the weather was perfect for a visit. Others from the program had visited the zoo back in January and mentioned that not as many of the exhibits were open. So, I was thankful that I picked a warmer day to go.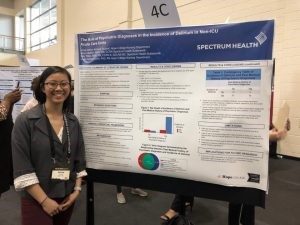 The next weekend, I had been planning to go to Atlanta, Georgia for the National Conference for Undergraduate Research at Kennesaw University. The weekend was filled with thousands of students' research projects of all different studies and disciplines. Among these thousands of students, Hope College sent nineteen. My research involved investigation of the relationship between a past medical history of psychiatric diagnoses and the incidence of delirium in an acute care non-intensive care unit. Throughout each presentation and poster that I visited, I could not help but be impressed at the work and diligence that the students had poured into each project. The culmination of their hard work reminded me of the unique contributions that diversity offers to exploration of the world. Being open enough to new ideas and perspectives is more and more evidently important to any field an individual may be pursing. At least, that is what I have found. In addition to listening and viewing others' research.
One of the more structured parts of the weekend was a visit to the Martin Luther King Jr. Memorial Row. In downtown Atlanta, there is a street that holds his birth home, the church in which he grew up, and a memorial center that includes his and his wife's, Cordelia Scott, burial tombs.
I was able to visit his birth home, which was unique, because his mother herself redecorated it after the national parks organization bought and restored the house. While I could not snap any pictures, I definitely wouldn't want to. In the generation of picture-perfect moments and Instagram, it is nice to be able to preserve a piece of history in one's mind instead of a camera roll. While I had learned about MLK Jr. in middle and high school, it was good to be able to understand a bit more deeply the enormity of his social and civil justice work and the hallmark events of his life. It's in these moments that I can begin to feel as if I could never measure up to someone as great and influential and MLK Jr. To have done so much at such a young age, he seemed to me like a superhero. Yet, it is these "super human" ideals that can hinder one from reach his or her full potential in life. It is here where I am constantly reminded of Paul's thorn in 2 Corinthians 12. While we should absolutely take pride in the work we accomplish, we cannot forget Who bestowed to us these gifts of intellect, influence, and power. Additionally, it reminds me that even in all my shortcomings and faults, God is a sovereign King who uses my weakness for His glory and purposes.
On the academic front, it was a very exciting week when the nursing students all gathered for breakfast to commemorate their last (EVER!) nursing exam. How glorious and relieving it was to be done with it! Celebratory coffee and naps!
While we're on the subject of food (again, I know. I'm such a foodie), I had found a coffee shop while trying to find another place (yes, perpetually still getting lost, even at the end of the semester), called Dropshot. In which I snatched an iced coffee with lavender syrup. Oh boy, was that tasty!
Another interesting restaurant that one of my roommates and I ventured out to was Yassa, a Sengalese Restaurant. As a part of the case study that I was working on for my nursing seminar class, we had to visit a restaurant that was representative of the culture of the neighborhood of interest, which was Bronzeville for me.
One of many things I've consistently enjoyed throughout the semester is the ability to go to more ethnically diverse restaurants than I could've imagined before. If I was to offer advice to a student coming to Chicago, it would be to invest in your relationships with your coworkers. They are the ones who have lived in the city for most, if not all, of their lives. Three months is a long time to spend with people, and I enjoyed getting to become a part of the hospital family. In this, they shared their favorite restaurants, entertainment events, and neighborhood advice (that is, which ones to visit, and which ones to avoid). So, to visit a Sengalese restaurant was way cool for me (yes, it was recommended by one of my coworkers). Not only was the food delicious (and very spicy), but the waiters were so friendly and even offered for us to try their traditional drinks and talked about each's cultural importance. Learning is a process I hope never to stop.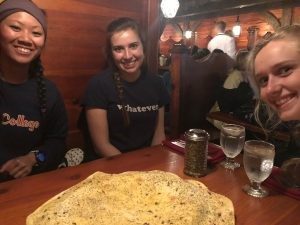 Another famous place in Chicago for good eats is called Chicago Pizza and Oven Grinders. They serve their 1.5 pound pizza pot pie steaming hot, chock-full of cheese and tomato goodness. As you can tell, I've been gorging myself on a ton of delicious foods and finding out culture via my stomach.
In these last few months, it has been a good chance to reflect on what I have learned: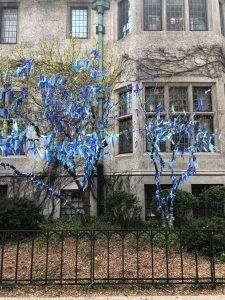 1) Becoming an active member of your community is not necessarily easy, but it is important. Understanding the tiring daily grind of a full-time job, I have also come to realize how much effort it will take to be involved in community events. Yet, there is something about giving more of yourself to the world that somehow, magically allows you to gain even more of yourself back. I included the picture of the blue ribbons, because as I passed it one of my many walks, I remembered my passions in life and why I chose the career I did.
2) Becoming a part of a work family was so incredibly special. While I was still a student, I couldn't believe how welcoming the staff were at the hospital and how much I learned because of them. They offered their time, efforts, and a slower day to teach me how to become a better nurse. To make someone feel at home is a special kind of talent that cannot be measure in gold or any other monetary equivalent.
3) You don't have to live in the city to like being in the city. During my time spent here, I learned more about myself: what kind of and how much alone time I needed, what areas I needed to grow in, and how much I love people. I consider myself to be a fairly reflective individual of my personal preferences, but I love that I can be continually learning about how to function in the world at my optimal performance. My intentions upon beginning the semester were that I would consider staying in Chicago if I liked it, but I figured out quickly the city was not for me.  I could've easily pitted myself to not enjoying the city, but I attempted to make the most of the experience and the opportunity. I feel as I have succeeded. In this, I have also taken away lessons that I will apply to wherever I land after graduation. Do I have this whole "life" thing figure out? Absolutely not. But, I do see a beautiful journey ahead of me.