Blog #1:
First off, thank you so much for joining my journey here in Chicago, make your self comfortable. Grab some coffee or tea, sit somewhere comfortable, and just enjoy.
My name is Bethanie Blackann. I am a senior at Kuyper College getting my Bachelor in Social Work with a specialization. The reason I am in Chicago is because of the decision I made to partake in the Chicago Semester. This includes class, an internship, and the ability to live in the Gold Coast. The class I chose to take is a Social Justice class, where each week we travel to a new city and talk about the history there, challenges they currently face, and the strengths of the community. My internship placement is with SGA: Youth & Family Services, which is an agency that pairs with schools to provide extra support for students through many different mediums. Due to health guidelines, my internship is completely remote which just means things look a little different than usual, but so far it has been going great.
What to expect from this blog: I am really hoping to just tell stories from different places I go to and post some pics. I might give small life updates or recommendations from the things I did from the week. You know we are all trying to currently navigate 2020 the best we can, and if I have anything that has helped me I will share it. I hope this blog will keep me accountable to keep trying new things, going to new places, and hoping to hear what the city has to offer while being safe.
The New Thing: Because I am completely remote I often find myself sitting around, staring at a screen all day. Something that has helped me get up and moving is Yoga with Adriene, and if you also struggle with this, the video link is one I did this week and was super easy and short.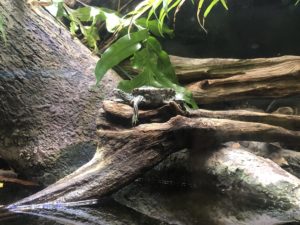 The New Place: During orientation, I was able to travel to a couple of different places. With all odds, there is still a lot that is available that is COVID friendly and luckily I was able to partake in some of it. Here are some places I went to:
Navy Pier Concert: It was relaxing and free for the public. We did not check what music would be playing so we were surprised to find out it was a jazz band. We stayed for a little while before just walking around and taking some pictures *picture of me is from there*.
Shedd Aquarium: I truly loved it, I think the prices were a little high but I enjoy aquariums in general. *picture of the turtle is from there*
Chicago History Museum: I would definitely recommend it, I believe there is a discount for students. My personal favorite was the tribute they paid to Martin Luther King Jr.
Lou Malnati's Pizza: I have never had a deep dish so I do not have much to compare it to. With that being said, they had great lunch specials and I have already gone back for more.
Recap: Joining a new city, starting a new internship, being a part of school again has been a big transition, but I am keeping my mind open and I am so thankful to be here. 2020 has put me in the mindset of just taking things as they come and making the best of it as I can. There is so much happening in the world, and I am truly blessed to be here, surrounded by great people. With that being said, I hope this can shed some positivity in your day.
About the writer: She is super passionate about helping others. She has known to be super involved with her campus and is excited to see what this new chapter has in store for her. She has a weird obsession with the office (who doesn't) and hopes to own a velvet couch in either pink or emerald green. If you want to suggest things for me to write about or just have any questions, please visit the Chicago Semester website.
* If for any reason this becomes a dumpster fire, we will just blame it on the fact that it is 2020