Blog #4:
Hello everyone, Welcome Back! You know the drill, grab some coffee, tea, hot chocolate,
get comfy, because this week has only begun. There is not a whole lot to update you guys on. With the weather getting colder, I honestly debate with myself on whether this year will be the year I try hibernating or not. I still try and get out, take walks, or try new things.
An internship update is things are going well. Last week one of the schools I am in had a Halloween week, where students got to do different activities for the week. Monday I played "Among Us" with a group of students. Friday we did a COVID-friendly trunk or treat. Those who could make it got candy, and were able to say hi to a couple of staff members. It was super fun to see some people in person. Otherwise, things are slowing down, Coming soon will be my last blog post in the city and after that, I will be back in Michigan.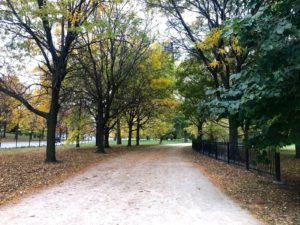 The New Thing: This is not new but my self-care tip is facetime. Ironically this is something that I have not done well on in past but I am slowly making progress. I have lived away from my family and some of my friends for a couple of years now and being able to connect with them any way I can have
been such a blessing. Otherwise, I also love writing letters and sending solid memes for motivation. I am definitely old school, in the way that if you send me a text I may never respond but if you call/email/send a pigeon I am replying as soon as possible.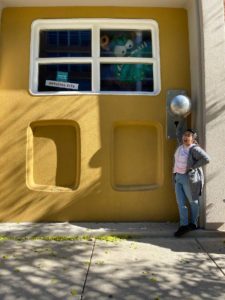 The New Place: Happy Camper: No complaints from me, but they also were the same as Homeslice. So if you have gone to one, do not worry about going to the other.
Big Monster: There is a huge door with a monster behind it located in the West Loop. It is the cutest thing, and a great spot to get some pictures. (The picture has been added).
Recap: Halloween is over, but I am in denial and leaving up my decorations for at least another week. Election Day is today. If you live in Chicago restrictions are back up,
so please be careful.
Also, please make sure you are taking the time to practice self-care. After doing my placement in a school and being a student, I have noticed the importance of it. Especially because of the election and the sun is not out as often. Please reach out if you need someone. I will gladly send anyone who wants a letter, a letter of encouragement. Take a bath, drink hot chocolate, or join me in watching Halloween movies till Thanksgiving. Just do something that makes you happy.