Hello again! I am excited to show you some pictures from a walk I took with my friend Manna. This was Wednesday last week, we are both teaching remotely on Wednesdays. Manna is an elementary teacher, so she goes in for in-person instruction four days of the week. She is an amazingly sweet person.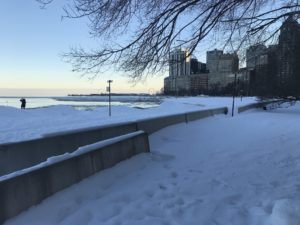 Even though it was freezing cold outside we both needed a walk, so Manna showed me how to get to the lake after our classes for the day ended. We walked a few blocks away from Canterbury and as we got close to the highway, we went underneath the highway by walking down stairs. There was a long underground path to walk through that had murals on the sides and after a couple of minutes we got to the stairs to walk up to the lake. The lake was so beautiful. The snow and sea and sky all were refreshing to my eyes. I took a few pictures as you can see here and I will cherish the first time I walked to the lake with Manna.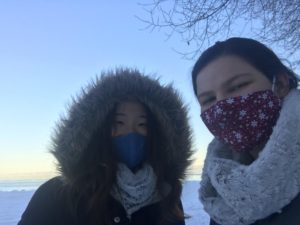 In student teaching related news, this week I started teaching full-time! It is so interesting being the teacher the whole day, but I think I have adjusted well. I love being able to create my own unit. I made a fun poetry unit for two of my classes that focuses on writing poetry and revising the poems. It is a new experience, but one that I will be able to learn from. In my other classes, the students are making podcasts where they are analyzing poetry. Many of the students are stepping up to the challenge. I hope they will get into the rhythm and schedule of it all in the next week, for those students who are not rising as much. Overall, I am working well with my cooperating teacher and my co-teachers who are just great supports.