Hello! This week we, Manna, Kieran, and I, were finally able to eat our delicious Small Cheval scavenger hunt meal! We walked to Small Cheval (only a ten minute walk from our apartment) on a beautiful spring day. We got there and ordered cheeseburgers and fries. Manna and I got garlic aioli fries- ooh la la! I had such a great time and afterwards we went to Insomnia Cookies, which was just across the street. I got a delicious peanut butter cookie!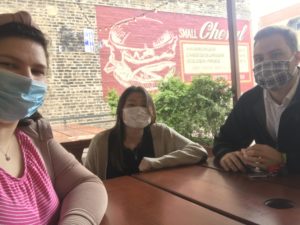 In student teaching related news, I have spent the last week in Spring Break and have been working on completing my electronic portfolio and creating lesson plans for when I return for being a full time teacher! I have gotten to know my students better. I plan on introducing some classroom management strategies! I can't wait to show the joy of Christ in my classroom to my students!
The last days of class (which was in person) I brought a coloring book and we scanned pages and the students colored. I really enjoyed spending that time with them. I was able to walk around and interact with them adn talk to them about what colors they were using and why. Also, one of the students colored flags and he colored the flag of Romania, and I was so proud as a Romanian-American!