Hello! My name is Briana Coman and go to Trinity Christian College.
I am a student teacher for Solorio Academy High School. I am currently living in Chicago for a semester abroad with the program Chicago Semester and it has been so exciting. I actually live about an hour away from Chicago, so this is a nice little change of place. I moved in just two weeks ago into my adorable studio in Canterbury Court. The people at the front desk are all so kind and warm, they will help you with any problem that you have.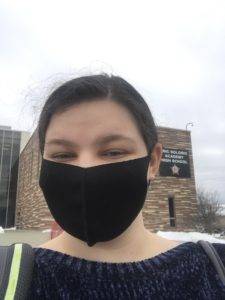 Over the weekend I went out to see the Bean and walk up the Magnificent Mile with the two other student teachers who live on my floor. It was so cold that day, it was 0 degrees outside! Always wear lots of warm clothes! But even with the intense cold, we had a lot of fun walking around, looking at shops, and seeing the city with masks on.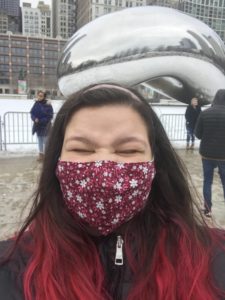 My student teaching semester has been off to a great start. My cooperating teacher is friendly and he understands the big shift that it is to student teach. My first day went great as I had the students engage in a little game to get to know me: two truths and a lie. While overall there is very low participation, the students who do participate are there to stay and will engage with the chat. Many students had fun with the game.
As the city is getting safer, more stores and activities are starting to open up which is exciting to see what we can do next.