Hello again everyone!
I'm writing to you with only one week left in February, and I can't believe it––time is flying! The days seem to go by so much quicker with a break mid-week for classes. Now being this far in, I can confidently say that I've settled into a routine, and for those of you who are curious, this is what a typical day looks like for me:
-Wake up at 6:00am
-Leave my apartment at 6:45am (6:50am at the latest)
-Walk to the Red Line and take the 6:56am train (or the 6:59am train if it's one of those mornings when I hit snooze one too many times…)
-Ride the Red Line 7 stops to Roosevelt
-Get off and transfer to the Green Line (whilst climbing many, many stairs)
-Ride 3 stops to Indiana
-Walk 5 minutes to Wendell Phillips Academy (I'm here every day except–Monday (Dunbar) and Wednesday (class))
-Internship 7:30am-3:30pm
-Commute back to my apartment, usually arriving back home around 4:00/4:15pm
-Walk 10 minutes to Moody Bible College to work out in their gym (you can get access for only $40 for the whole semester!!)
-Come back to my apartment, shower up, and have dinner
-Then depending on the day, any or a mix of the following: homework, bachelor night, relax, call friends, maybe go to a coffee shop, watch a movie, get ready for the following day, attend an art event
-In bed around 10:00pm
-REPEAT!
Even though I've established a routine, there are still things I'm learning. For example, bundle up every day––no exceptions. Being from Michigan, I thought I was prepared for the cold plus wind combination, but boy was I wrong. Without a scarf, earmuffs, and mittens you are chilled to the bone! I recently made this mistake and found myself standing on a train platform (without any of the items mentioned above) unable to shake how cold I was, so I checked my phone, and to my surprise it was -2 degrees out… and that wasn't including windchill. Major oops!
 On a more serious note, another thing I'm continuing to develop is my ability to navigate the essential separation of "work Brittney" from "home Brittney." Here's what I mean by that: working in a Chicago Public School, on the south side of Chicago, as a school-based counselor presents unique situations that get shared with me. Many of my clients have experienced, or are currently experiencing, serious trauma, and it's hard not to take that home. College programs (Calvin included) try to warn you of the stories you'll be faced with, and as prepared as I thought I was, the reality of it all when a student is physically sitting in front of you is nothing you can truly prepare for until you're in that moment. Thankfully, I have been blessed with a supervisor who continues to check-in on me and walk me through this important ability, sharing her own development with this skill. I've realized that being an empath, this is something I may not be able to perfect, but that's okay––most can't. Plus, I can still be healthy if I'm intentional and self-aware, making sure to practice self-care. I've officially joined the echo of social workers all around the world on this discussion.
 Overall, these last couple weeks have been good to me. Not only have I done the regular schedule of internship and class, but I've been able to attend some events and try even more food (never a bad thing)! Here are some highlights from the last couple weeks:
-Girls night at Aurelio's Pizza
-Molly's Cupcakes run with friends x2 (their chairs are swings and their cupcakes are seriously so good!!)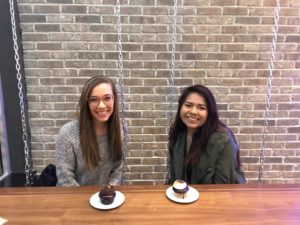 -Attended the Chinese Fine Arts Society's event: Lunar New Year Celebration and Lantern Procession
-Ate out at Rock Bottom Restaurant and Brewery…again (you just can't beat the quantity and price for downtown Chicago!)
-Attempted to go to a free wine tasting that didn't exist…
-Went to the Chicago Auto Show!! Test rode some cars, won free stuff, attempted to drive…failed (feel free to ask).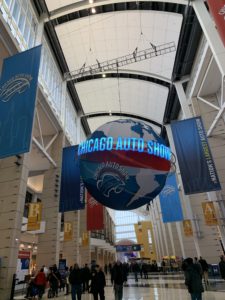 -Impromptu Cold Stone run
-Pet some puppies
-Saw, How to Defend Yourself, at the Victory Gardens Theater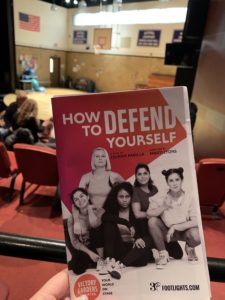 -Attended a Bible study started by a group of us in our apartment building
-Saw the Joffrey Ballet present, The Times Are Racing, at The Auditorium Theater
A bit of a shorter list, but I went home this past weekend to take care of my boyfriend post-surgery (and as a bonus, it was Valentine's Day!) 🙂
Until next time… stay warm!
Britt