A maze of concrete
with walls embracing the sky;
once unfamiliar,
has now begun to recede
into a landscape of home.
Hello everyone!
My name is Brittney Statema, and I'm a senior studying Social Work and Spanish at Calvin University in Grand Rapids, Michigan. Last year, I took a leap of faith and signed up to spend my last semester as a student (ah!) in Chicago with the Chicago Semester program. Although leaving friends, my last tennis season, my social work cohort, and more behind, I am happy to report that it's been an absolutely amazing experience so far! The program did a wonderful job helping introduce us to the ins and outs of the city, and nearing a month in, I can confidently say that Chicago has become familiar and like another home to me.
 Thanks to Chicago Semester's help, already back in July I accepted an internship with SGA Youth and Family Services. I work with a school-based counselor in the Mercy Clinic at two different Chicago Public High Schools––Wendell Phillips Academy and Dunbar Vocational Career Academy. CPS hires outside community partners to work in their Clinics (sponsored by the Mercy Hospital here in Chicago) that provide medical help and professional therapy, and I fit into the therapy side. I split my time between the schools, spending Monday's at Dunbar and Tuesday, Thursday, and Friday at Phillips. Overall, I work 32 hours each week. I have already learned so much at my internship. It's so rewarding to finally get out into the field and do hands-on work after years of studying! I'm encouraged and hopeful for the rest of my time here.
They say the city never sleeps, and I finally understand what that means; there are so many things to do! Some of my favorite activities so far have been a Friends trivia night, visiting the Shedd Aquarium, going to a Blackhawks game, walking the 606 trail, going to the Field Museum, exploring the Pilsen neighborhood, and seeing a couple plays––The Tasters and The Mousetrap. Not only are there a myriad of events (many of them are free too because you're considered an Illinois resident while living here!), but the food possibilities are never ending. From the Nutella Cafe to Costa Rican food at Irazu, there's something for everyone if you're willing to look for it.
 Here is a list of some activities I've done so far as well as some restaurants I've tried! 🙂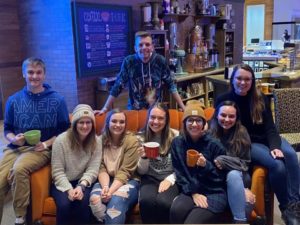 Activities:
Toured the Chicago Cultural Center, Explored the Pilsen Neighborhood, National Museum of Mexican Art, Mural Walk in Pilsen, Shedd Aquarium, Field Museum, Rivendell Theater: The Tasters, Hot power flow yoga @Studio Three, walked on the 606 trail, Bachelor nights, Girls movie night, Palette & Chisel Art Academy: Free art gallery and met the artist, Willow Creek Church, Court Theater: The Mousetrap, Jane Austen Improv, Friends trivia, Blackhawks Game, Goodman Theater: Roe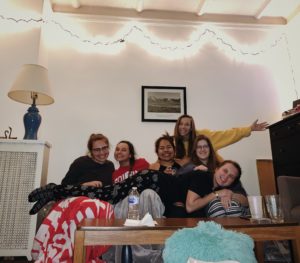 Food:
Nutella Cafe, 5 Rabanitos Restaurante & Taqueria, Velvet Taco, Burger Bar, Starbucks (for homework), Portillos, Rock Bottom Restaurant and Brewery, Costa Rican dinner: Irazu, Mindy's HotChocolate, Hopsmith (free drinks and apps), Chipotle, National Pancake House, Cheesecake Factory, Sprinkles
I look forward to sharing more of my experiences with you!
Until next time,
Brittney