Today marks exactly one month left in Chicago…what?! I really can't believe it. I think I've said this a hundred times in the past couple of weeks, but I don't understand how I can be increasingly ready to be back at Ouachita with all my best friends while increasingly wishing I could just stay here in Chicago at the same time. I'm so very excited to go back to the life I've left behind in Arkansas, but, gosh, I hate the idea that in just a few short weeks, this whole semester will be only a memory.
I've really enjoyed my internship lately. I feel like I'm contributing substantially to the program I'm involved with, and that's been so nice, to feel real purpose in the work I'm doing. One of the biggest blessings about working here at Open Books is my supervisor. She's personable, flexible, and understanding. She's made it very clear that this semester is all about giving me the opportunity to contribute to the ReadThenWrite program in the way that I want, and she's been adaptable in helping me be the most successful I can be.
In my last blog post I had just been to my first classroom as a writing coach for a couple of groups of 8th graders. I've continued to do that every Thursday, and I've been surprised by how much I love getting to know these sweet students. Getting to teach them about reading and writing—two of the things I'm most passionate about—has been so much fun. One Thursday a couple of weeks ago, one of my students pulled out his sketchbook at the end of class and said he wanted me to look at his drawings; he said that he'd brought it to school especially for me to look at. It gave me such a warm feeling to know that these students feel the same connection with me that I'm feeling with them.
Stealing the title of my roommate Janelle's last blog post, "Sometimes, the people make the place." I think that's been a big theme for me this past month as well. I got to a place last month where I realized that I'd spent a lot of time working on myself as a person, but I had been so focused on myself that I wasn't being purposeful in getting to know the people around me. I'd felt like I had to improve myself before I could really pour into others. But I don't have to make myself perfect before I pour into others. Being an imperfect human doesn't disqualify me from being able to invest in the great friendships I can have with the people I encounter every day. We all give to and take from each other, imperfections and all. So while at work I've really opened myself up to loving my supervisor and my students and my fellow interns, I've also really opened myself up to loving my fellow CS'ers in a way that I hadn't really been allowing myself to before. I started to be more self-forgetful, to get out of my own head and really care about investing time in these friends whom I only have a limited amount of time with.
Whether it's someone I've been getting to know to all semester or someone I've decided to get to know over an afternoon cup of coffee, I've really tried to be more intentional with being a good friend to people. I've come to find that the more I listen to and encourage and spend time with others, the more content I feel with where I am—I no longer feel such a strong need to work on myself.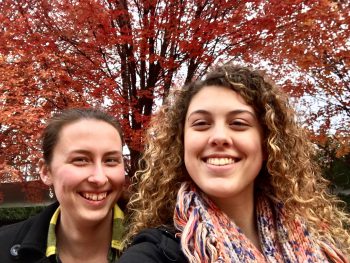 One of my favorite things to do on Wednesdays after I get out of class is to go to the Harold-Washington Library to play piano and sing in one of their practice rooms. That's been very therapeutic, and I've gotten to share that experience with a few of my friends here, too. I've gotten coffee with a couple of people so that we can have a chance to get to know each other and talk about our lives and about how God has been growing us through this semester in Chicago. I went to a couple of movies ( A Star Is Born and Bohemian Rhapsody ) with some of my friends this past week, and my roommate and I walked around Millennium Park and Maggie Daley Park to see all the pretty fall colors on the trees last weekend. I went to a Chicago Bulls game on Saturday with several of my friends (we won against the Cavs by one point!), and yesterday I had the chance to spend some quality time with my good friend, Jenna, going to church, eating lunch at Corner Bakery, and walking around the mall.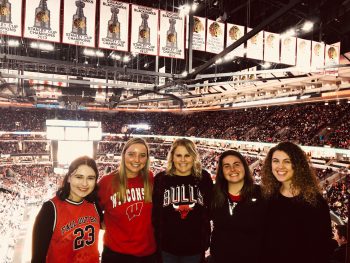 I have to say, though, that by far one of the most memorable experiences of this past month was what happened this past Friday night. At 11:30 pm my friend Allison and I saw on Instagram that our favorite contestant from the latest season of The Bachelorette was in Chicago at a club that was about a 15-minute walk from our apartment! Each of us jumped out of bed and met downstairs to go see him. We weren't able to get a picture with him, but he was close enough that Allison and I both got to touch him, and he stood right beside us for a couple of minutes before he left! It was exhilarating to do something so spontaneous with one of my closest Chicago friends, and to get to see one of my favorite celebrities!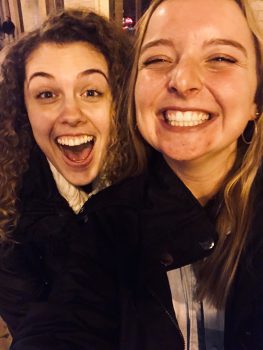 Overall, this past month has been my favorite yet in Chicago. I'm so excited to see what adventures this last one holds, and I can't wait to make more forever memories with my wonderful Chicago friends.