Hey guys,
Hope everyone had a good couple of days. I know you've all been refreshing the Chicago Semester page for the last 10? days waiting on this blog post. Haha, I kid. Anyway, the last few weeks have been kind of eventful on my end. As my last blog post was a sort of ode to people-watching and music, based on the events of the days that have passed, I think this one is going to be an ode to community. Or in other words, how I'm being less of a loner.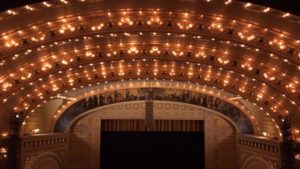 So, in my last post I mentioned talking about the bachelor and arts class – two cherished routines I've gotten through Chicago Semester. Through Chicago Semester, I am enrolled in a class called Arts in the City where we get to go to different art experiences like theater shows, dance performances, art galleries and other really cool things that take us to different parts of the city and also get us talking about interesting topics. For our last show we saw the Joffrey Ballet at the Auditorium Theatre and it was probably the definition of beautiful. I really enjoy having thoughtful and deep conversations and being challenged by them, so this class has been a breath of fresh air.
:: cue in sudden gusts of wind ::  Is that you Pilot Pete? –
The Bachelor. This is the first season of the Bachelor I've ever watched, and what an experience people. What started as a semi-reluctant viewing session with my friends from school has now become a Tuesday night ritual with some other students from the Chicago semester. Every Tuesday after work, we gather in Lizzy Johnston's apartment (shout-out to she and Rachel DeMoss for being our lovely hosts) and we ride the 90-or so-minute emotional roller coaster together. Commenting and getting enraged as we go, it's basically group therapy and definitely a constant highlight of my week.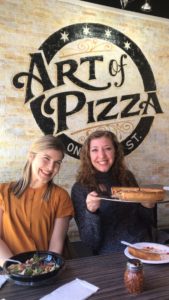 Other highlights and bee-bopping things – I saw the Wiener Mobile and had some deep dish 'za at Art of Pizza with some cool folks. Went to The Field Museum. Went to a brilliant coffee shop called A Sip of Hope that gives a 100% of its proceeds to suicide prevention and mental health education – important.
I visited the Shedd Aquarium, which was pretty cool and also quite packed that day. I apologized to a lot of children for bumping into them, it was a humbling life experience – "Ope, sorry Dylan, cool Pikachu hat though my dude."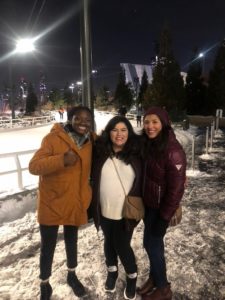 I also hung out with a couple of friends that graduated from my college a couple years ago and it was the best. We grabbed brunch at Troquet River North, went ice skating at Maggie Daley and then had dinner in Chinatown at a place called Hing Kee – highly recommend. Just a brief note on ice skating though: So, turns out I'm not the best at it – shocker – it's definitely not as easy as it looks. But paraphrasing one thing my friend kept telling me as she tried to keep me from falling for the second time was "Hey, don't be scared, the thing is you keep going backwards, just let yourself fall forward." And as try to let the depths of her words bolster my ability to skate further – I fall for my second time.
Yeah sometimes words don't help. But isn't that the most beautiful thing though- "fall forward". To obviously generalize, I think that's a good description of how I'm assuming Chicago Semester is going for most people at this point. It's like getting through Wednesday, we're kind of moving past the hump of the week, getting comfortable, and falling forward into the city. Although everyone's experience of this semester is very different, at some point, there's hope that you might find some balance and little pockets of community.
Had to get deep at some point. That's just the way it goes.  :: cue in music by Hippocampus  ::
So, there it is, my ode to community. That's all for now. Sayonara!