Hello again! So glad you have decided to check back in for more student teaching stories and very importantly my new restaurant review! Teaching from my apartment and seeing students through a screen has become normal, which is something I never thought I would say, and I am sure something many people never thought they would hear.
As I said in my last blog, I have been picking one thing every day that brought me joy. Looking over the moments from the last two weeks, there are many that bring a smile to my face but I will just share one! I was working on logging into our meeting for class and some students had already arrived. Before I could get my camera on, I heard one of the students asking where I was. This brought a smile to my face knowing that the student saw me as a teacher and someone who had to be there in order for class to be normal. It gave me a little taste of what having my own classroom will look like, and I am so excited!
Sadly, this is my last week in 6th grade science. The relationships I have been able to build with my students and especially my mentor teacher is something I will forever cherish. Coming to Chicago, I knew I would be in for an experience that was new and at times trying, but my 6th graders and my mentor teacher have taught me things I didn't even know I needed to learn. I will forever be grateful for the open arms that they welcomed me with, and the things they have taught me.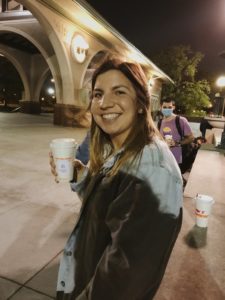 Alright, enough with the mushy gushy sad stuff, and on to my weekend activities! Last weekend we had the opportunity to attend a Fine Arts Event through Chicago Semester. I will admit I was skeptical about going as art and theater is not something I would choose as my Saturday entertainment, but it was a great experience! (They even got us Dunkin' – I have decided my new motto is, "Another day another Dunkin" 😉 The show that was put together for us was incredible and I am so glad I was able to go. The acts ranged from poetry, to acting and singing. Looking back, this experience reminded me of my choice to come to Chicago Semester. I did not know exactly what I was getting into, but when reflecting on the experience I would have it no other way. Something I have learned and a little advice I would give: Try something new, I promise it'll be worth it!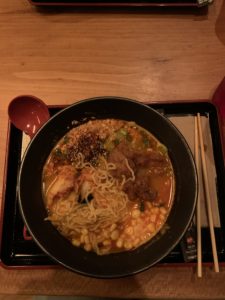 Next, MY FOOD TOUR!! On the tour this week is: RAMEN-SAN! I had never had fancy ramen before, just the typical college ramen noodles from a bag. BUT let me tell you, the fancy kind is 1000x better. If you're in Chicago I highly recommend it!
Now that both my eyes and my mouth are watering, I will leave you with one suggestion. Try something new this week, step out of your comfort zone, whether it's amazing or a flop, I promise you'll learn something. I hope you have a great week, until next time!