Welcome back! I cannot believe that it is November; where has time gone!?
It feels like just yesterday I was moving into my apartment at Canterbury, riding the Red Line for the first time, and taking my first trip to Jewel. Now, coming back to my apartment feels normal, I have gotten comfortable riding the train (although I am definitely not a pro) and I am even learning what isle things are in at Jewel. One moment that brought me joy in the last week was even getting my eggs on sale – seriously it's the little things 😉
This week I started my new placement in 8th grade math! Going in to class on Monday felt a little weird; logging in to a Google Meet where everyone there knew each other, and I was going to be a new face meeting them all for the first time. As I logged in I was welcomed by both my new mentor teacher and my students. As I have been going through this week, I am not going to lie, it has been a little rough. I am having to readjust, but this is something that is a part of every day of teaching. Although this has been hard, I have been shown so much grace by both my mentor teacher and my students and I am so excited to learn alongside them and add new tools to my teaching bag. I can't wait to update you with everything I learn, so be sure to check back in!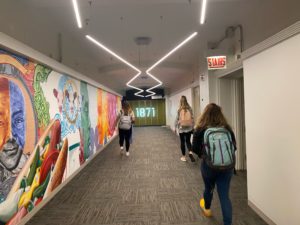 Something I haven't told you about yet is the professional development class we get to take while in Chicago. We have class every Tuesday after our day of teaching. Some topics we have talked about so far include the Chicago Public School system as a whole, immigration in Chicago, English Language Learners, social justice, communities in Chicago, and classroom management. This allows the student teachers to come together and talk about issues that are relevant to Chicago and helpful tools for our future classrooms. At the beginning of the year we often had class in a park nearby Canterbury, but as it gets colder we have moved to 1871 which is where the Chicago Semester offices are. 1871 is in a large office building on the river that houses offices for many other companies as well. Class can be a nice break from lesson planning to talk with other student teachers and share different teaching stories from our week and share a few laughs – seriously it's the little things.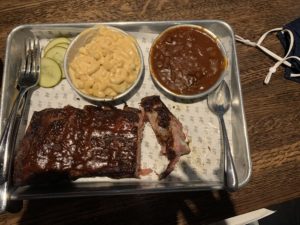 Now, your favorite part of the blog: FOOD TOUR!! Last week I took a trip to Wrigleyville with a few friends to check out Smoke Daddy's for some barbeque. Fun fact: my absolute favorite food is ribs so obviously that's what I ordered. As you can see from the picture I couldn't wait to try them! They were so good and were definitely a highlight of the food I have eaten here! If you are crazy about ribs or anything barbeque add Smoke Daddy's to your list! You could even go during baseball season and see a game at Wrigley Field while you're at it!
That's all for now! Remember to find joy in the little things, even if it is just a good laugh or eggs on sale! Talk to ya when it's a little colder and I am wishing we could go back to summer. Go get yourself some clearance Halloween candy to help stretch your stomach, Thanksgiving will be here before we know it!