Welcome back to student teaching COVID edition! As I mentioned in my last blog, things look a little different this year and boy have there already been some twists and turns! I cannot believe that it is already October, but like they say, "Time flies when you're having fun!" ooorrr when you are super busy!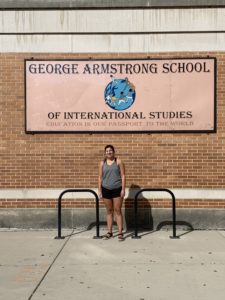 My past two weeks have been filled with lesson planning, assignment making, and of course teaching! I am starting to get a real taste of what the teaching world looks like, and although some days it feels like a lot, I am learning that it is so rewarding! This was the first week that I have taken over teaching all five of the sixth-grade science classes and it has been crazy but amazing all in one. The days fly by when I am teaching, but my favorite part is to reflect on the day. Something I have started doing is writing at least one thing from my teaching day that brought me joy. Sometimes the smallest things make the list. As the semester gets busier with teaching, planning, and homework, I have found that finding joy in the little things might just be the thing that keeps a smile on my face!
And of course, I have been able to do some exploring of Chicago for my study breaks. For seminar this week, we were asked to make a presentation about our school, and what better way to research than to actually visit the school!? Although I was not able to go in it was so fun to get to see the building and even some of the classrooms! (Through the windows of course). I was also able to walk around the neighborhood, which gave me an inside look as to where my students live and the parks they talk about playing in during class. Even though I would love to be able to go to school every day and see my students in person, my little tour will have to do for now.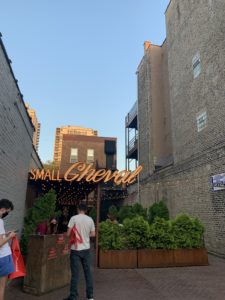 One of my favorite weekend activities is tying new restaurants. THERE ARE SO MANY TO CHOOSE FROM! This weekend I found a burger place that was suggested by some of the Chicago Semester staff and it made my taste buds smile for sure. Small Cheval has the cutest outdoor seating and such good food. I ordered a cheese burger, fries, and added the garlic aioli dipping sauce which was definitely worth it. The burger was amazing and the fries did not disappoint either. The best part is that it is just a short walk from Canterbury! If you are ever in Chicago, I definitely suggest stopping by Old Town to check it out!
That's all for now, but be sure to check back in for more student teaching stories and restaurant reviews! You can call me the new Guy Fieri 😉