Sometimes, the people make the place
Chicago has started to feel like a small town. I no longer need to pull out my phone every time I want to go somewhere. My mental map of handy landmarks is constantly expanding, and I have my usual lunch hour circuits to walk. But I was really hit by how small Chicago is on Saturday, when I was having an awful hair day. But, hey, I'm not going to see anyone I know, right? Wrong. I definitely ran into a coworker on the red line. Thought I got away from that by leaving Sioux Center. HA.
Big towns—just like small towns—are, at their roots, made up of people.
**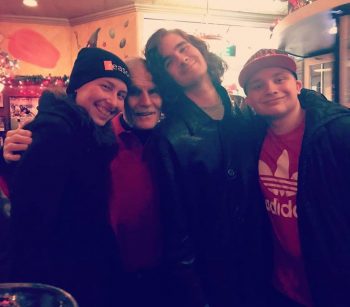 Last Thursday, I and the Original Pizza Crew headed over to Pizano's. There was no special motivation for that place in particular; it was next on our list and conveniently located in the Loop. So we went for it.
And we'll never forget it.
Our server, who looked to be in his late 60s, introduced himself as "Uncle Chach" and asked where we were from. When I told him "Michigan," he immediately yelled over to another table, "Hey! I found Michigan for you!" He turns back to us. "They're from Michigan, too. I love to connect people. See, you're family now." And we really felt like we were.
He remembered our names right away, and kept walking back to talk about life and make sure we were having a good time. At the end of the night, he gave us a long talk about being ourselves and being present in every moment, then served us free dessert: some kind of giant cookie covered in ice cream and imported chocolate. Oh, and smothered in whipped cream. 10/10 would recommend.
We made a pact that we were officially family, then took a group photo before we headed back home for the night.
Like I said: It's about people.
**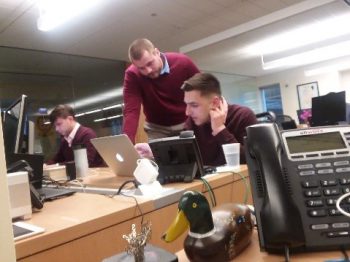 We had our midpoint internship evaluations last week. That's insane, in and of itself. But it also reminded me to take advantage of the greatest resource I have: the people around me. Sure, I talked to my desk mates a lot, mostly arguing about food and getting mocked about my lack of pop culture knowledge, but I hadn't made a point to really get to know my other coworkers
So I made an effort to meet people. I talked with a policy expert about how he got into his position, what he loved about the field, and if he had any nuggets of wisdom for me. I did the same thing with a communications guru. And they gave me plenty of things to think about, but in all honesty? I just really enjoyed how easy it was to approach them afterwards.
The receptionist also knows me well at this point. She emailed to ask me to cover the front desk for her on Tuesday, but ended it with, "You can still go for tacos with the boys, as long as someone covers the phone for that hour." She remembered Taco Bell Tuesday. I was touched. It's by far one of my favorite IPI rituals (other than "freshman orientation"), where I and a bunch of sports-obsessed male staffers trek over to the Taco Bell Cantina and stuff our faces. Do I understand most of what they're talking about? No. Do I still enjoy the chance to spend time with interesting people and ingest fake Mexican food? Of course!
**
Sometimes, when the days get long and the to-do list piles up, you just have to remember that you're human—and that everyone around you is, too. This city is full of people experiencing ups and downs, joys and hardships, living, laughing, and learning from mistakes. I'm happy to be one of them.
Whether at work or out on the town, you just never know who you're going to meet in Chicago. You might gain a friend, a mentor, or even an impromptu uncle. Heck, you might end up gaining the same uncle I did. Good ol' Uncle Chach sure knows how to network.