The Final Countdown
T-minus two weeks until the last day of my internship. T-minus two and a half weeks until finals are done.
It's safe to say things are heating up, even as the weather's cooling down.
Now, I don't have a motto, but one of my go-to phrases is, "Set your expectations low and you'll always exceed them." It's mostly sarcastic, but it does come in handy on occasion. In Chicago, it's been completely unnecessary. Had I set any sort of expectations for my time in the city, I think I would have exceeded them.
But it might have been good that I went in without expectations for this semester. Because I'm not sure I would not have guessed any of the things I learned and experienced here.
For example, I: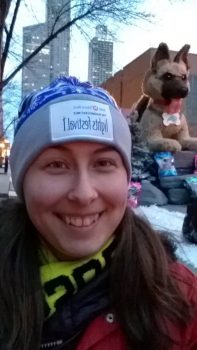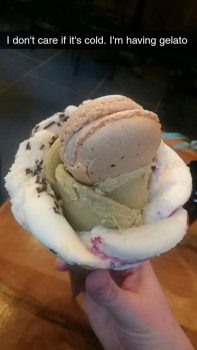 -Made some work friends while sipping wine on a Tuesday night.
-Saw The Nightmare Before Christmas accompanied live by the Chicago Philharmonic.
-Walked beside a dog food float in the Magnificent Mile Festival of Lights.
-Ate gelato that looked like a ROSE.
-Took a field trip to interview someone for work.
-Made friends with a stranger (who turned out to be a fellow juggler) while waiting for the Metra on said field trip.
-Ate at my 8th Chicago pizza joint.
….And that's just since I wrote my last blog post.
Last week, I took a quick trip back to Michigan for Thanksgiving. While there, I took the chance to "network": talking and eating food with some of my favorite people on the planet. That's totally networking, right? I'm gonna count it.
But, even in my absence from the office, some things finally started coming together at my internship. I checked my email and got excited when I saw that one of my stories got posted on the website. Then I did a double-take, because I recognized… almost all of the sentences. For the first time this semester, my writing voice had fully survived the editing process. I was thrilled.
Does this mean I finally know what my editors are looking for? Nope. But I do know that success is possible, which is extremely encouraging.
After Thanksgiving, I took my parents back to Chicago to show them around the "neighborhood." We hit up… everything. I've gotten so used to exploring slowly that I was unprepared for the amount of activities my parents wanted to fit into one Saturday. But we had a blast with a scavenger hunt, a trip to my workplace and the Bean, a walking architecture tour, Wow Bao, lights at Lincoln Park Zoo, and cheesecake for dessert.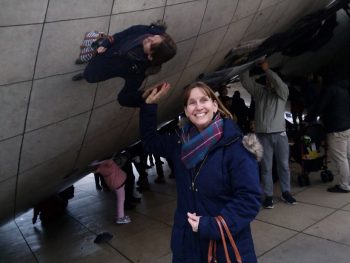 I think these next two weeks are going to feel a lot like that Saturday: A little hectic, a little stuffed with activities, but ultimately filled with memories I'll want to hang on to. More adventures are waiting just around the corner of Christmas break, but I'm going to cherish the time I have left here.