To Boldly ChicaGo
Walk to Clark and Division. Get on the red line headed for 95th/Dan Ryan. Shove your way into the small space in front of the sliding doors and find something to hold on to. Let out a breath of relief when the mob unloads at Lake. Get off at Monroe and go up the right hand escalator. Walk three blocks, scan your ID, greet the friendly doorman, and take the elevator up to the 15th floor.
What was once foreign is now familiar, and that's a great feeling.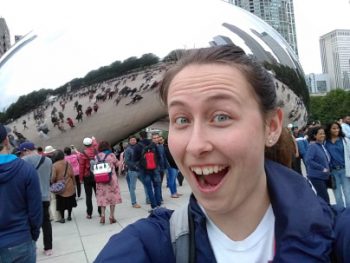 My name is Janelle Cammenga. I'm a senior English: Writing major and Chemistry minor at Dordt College. Dordt lies in the northwest corner of Iowa, but I hail from mid-Michigan. This fall, I'm interning at the Illinois Policy Institute—a free market think tank that focuses on state- and local-level policies. They do research on policy issues and inform the public of what's going on in the government, effecting change by using the combined power of public opinion and legislators' desires to please their constituents.
I'm technically a marketing intern, but at IPI this includes mostly content creation: fact-checking research projects, sending out FOIA (Freedom of Information Act) requests, and repackaging news stories for our audience. I've already written several such pieces, each of which involved multiple rounds of editing—something I might discuss in a future post.
After spending the summer in Los Angeles, I'm thrilled to be back in the Midwest. I love the wind, the thunderstorms, and the promise of fall in the air. But more than that, I love the food.
Chicago's my kind of city. You can't walk two blocks without running into a pizza place. There are so many restaurants to visit. Sadly, for all intents and purposes, I'm pretty broke. I found Portillo's, which mercifully serves food that is both cheap and excellent. It's there that I had my first official "Chicago Dog" last week, although I wimped out and asked them to hold the mustard. The rest… I let them pile on. It took about two bites to get used to the wild assortment of toppings, but once I did, it was fabulous.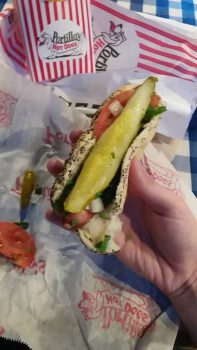 As for hitting up pizza places without making my wallet cry, I decided to go on a slow motion pizza tour of the city. Every Wednesday night, I try a new pizza place (with some friends in tow, of course). So far, I and the crew have hit up Pequod's (with their caramelized cheese crust), Chicago Pizza and Oven Grinder Company (with their pot pie style pizza), Lou Malnati's (on everyone's Chicago bucket list), and Giordano's (the love of my life). Yeah, I know it shows I'm not a true local, but Giordano's still holds first place in my heart. We'll see if they stay there by the end of the semester. There's so much more pizza still to try.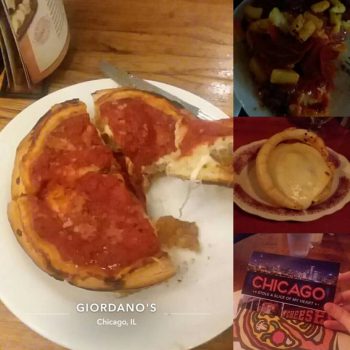 I've been here a little over a month now, but my adventures are still only beginning. So much happens every day that I'm sure I'll have a bunch of stories for you by the time you hear from me again. I can't wait for more learning—and more pizza.