Long time, no see!
By the time this blog post goes up, I would have completed six full weeks at my current internship site. Not only is this the second to last week at my first student teaching placement, it's my last week lead-teaching in my cooperating teacher's classroom! Time has absolutely flown by! Students at the school are so used to having either full semester or full year student teachers that my leaving feels a bit abrupt to them, unfortunately. Throughout the week, I've been trying to subtly break the news to my classes.  Although my time was short, I learned a number of invaluable lessons that will help to carry me to my next placement and beyond.
The students are thriving as artists and continue to do good work to advance arts in the city. Our vocal ensembles have a few really exciting performance opportunities that some may even describe as "high profile". It seems as if there's always a new collaboration for the vocal ensembles or an exciting performance opportunity just around the corner. It's been so inspiring to see them take advantage of the fact that their program exists within the context of a large city like Chicago.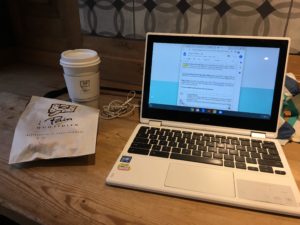 The city has so much to offer in terms of entertainment, arts, and food. There's something for just about everyone. I'm a huge introvert, so I thrive in places where I can find a nice cozy corner to be productive and people-watch. Smaller cafes like Le Pain Quotidien in the Lincoln Park neighborhood are perfect for that. Sometimes, I'll stop in to order a latte and do some lesson planning as I wait for the bus to take me to my after school employment. There are also places for those who want to get lost in a crowd or gain energy through social interactions.
Over the weekend, my friends and I took full advantage of our extended Summer weather to catch up, try new places around the city, and partake in Sunday brunch. We decided to try Kanela in Andersonville on the city's North side. It's a cute breakfast place with reasonable pricing, and dishes that put an eclectic spin on traditional breakfast foods (I had Sriracha Honey for the first time that day!). Afterwards, we were able to walk around and take in the beautiful weather while exploring Andersonville. This is a neighborhood that is heavily influenced by Scandinavian (particularly Swedish) culture. You can see this in the architecture, murals, and the large Swedish American museum that is conveniently located on the neighborhood's main street.
Chicago has plenty of other cultural hubs and I can't wait to share them with you in future blog posts.
Until then,
See you next time! Peace!