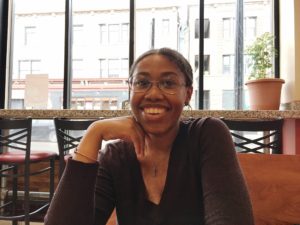 Hello, everyone! My name is Kaci and I am student teaching this Fall with Chicago Semester! I hope these blog posts can provide you with a little insight into the ups, downs, and curves that come with student teaching. Before I get into my student teaching placement and some cool features of the city, let me provide a little context about who I am! I'm a student teacher currently attending St. Olaf College in Minnesota, but I was born and raised here in Chicago. It's so nice being back in my hometown for this experience! It's been almost a month since we've first moved into our provided housing in the city's Gold Coast neighborhood, and I'm loving the ease of transportation.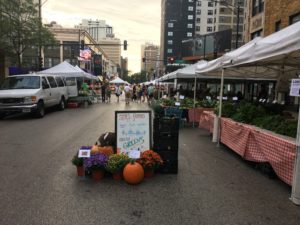 More than three bus lines and a train are within walking distance, not to mention a Jewel-Osco and plenty of stores, restaurants, and pharmacies to grab something quickly and conveniently. What you see pictured is the Division Street City Market, which is one of the city's many farmer's markets that pop up during the late Summer and early Fall. The market is full of local artisans, local music, and of course fresh produce. I try to pass through this market on my way to work every Saturday morning.
As I mentioned before, I'm spending this semester as a student teacher in Chicago Public Schools. As an alum of this district, I'm super familiar with its nuances. For example, I know exactly what my colleagues are talking about when they mention terms like "selective enrollment" or "wall-to-wall IB". I'll get into features of Chicago Public Schools in a future entry, where I'll touch upon some of those terms in greater detail.
Because I am seeking K-12 certification in Music, I'm spending seven weeks working with a high school music program and seven weeks at an elementary school. These first few weeks have flown by and I'm nearly halfway through my first placement (high school). The high school I'm currently at is on the city's far Northside, near the lake, and close to Loyola University. It's a quaint area that seems to know itself well. The atmosphere feels like the North Shore and the suburbs that surround it, but also keeps itself accessible to those commuting from more internal parts of the city. There's plenty of public transportation around my school, and I actually have multiple options for my commute. Sometimes I'll try a new way to get to school when I'm feeling bored, just because I can!
I'm excited to use this blog as a way to provide helpful insights and my personal perspective into the city, my student teaching placement, and life!
Till next time! Peace!