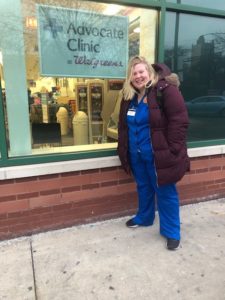 Hello! I am Kira Goetz, a senior nursing student from Hope College in Holland Michigan! I am spending my final semester of college back in my home state of Illinois, living it up in the Gold Coast area of Chicago. It will soon be a month since we moved in and we are finally getting into a rhythm. As I reflect on the past few weeks it feels both like we just arrived, but also as though we have been here forever. Moving to the heart of the city, away from the suburban comforts I am accustom to has been challenging the way I think and live. Chicago is a different kind of freedom than what I am used you. There are all kinds of people here, and you can be/do whatever you want without a ton of judgement. This type of open mindedness is refreshing. However, I feel a lack of freedom in the sense of transportation. At home or school, I can hop in my car, drive 5 minutes, then be basically anywhere I could want. Now I have to plan ahead, add in 30 minutes and check train and bus times before I go anywhere. I am learning the give and take of living in a big city, and though I don't know if after this semester I will be transformed into a city girl, I am enjoying this season of adventure.
Finding an internship has proven to be more difficult than anticipated. The nursing profession has a national preceptor shortage and even the great city of Chicago is feeling the impact of that. As a result, I am currently working at an Immediate Care Clinic, but within a few weeks should be transferring to the Hospital setting. I get to see a variety of patient concerns in the clinic setting, but since we are at the height of cold and flu season (shameless plug to get your flu shot) a majority of our patients have been in with respiratory concerns of this sort.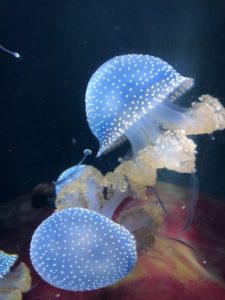 My week looks a little bit different than other students: Mondays I work a 12 hours shift at the clinic, Tuesday morning I have a 2 hour nursing class then I fill my day with errands and homework, Wednesday morning I have my Senior Seminar Class followed by the clinic until 7pm, Thursday I have another full day shift, then I get a 3 day weekend. Having a long weekend means that I have plenty of time to both rest and explore the city. We have taken full advantage of the free events in Chicago this past month, getting to see the Museum of Science and Industry, the Shedd Aquarium, and multiple plays for $0. Along with seeing the sights I have also explored all the food Chicago has to offer. Thank goodness the entertainment has been free because I have spent my fair share of money on going out to eat, there is just so much to experience. Thai, Italian, Mexican, Asian, and Costa Rican food, along with local coffee and donut shops have all been stops along the way.
I am excited to see where the rest of the semester brings me as I get more comfortable in this new city and continue to explore everything it has for me and the other Chicago Semester students.