Hi all! My name is Margaret Poulos and I attend Carroll University in Waukesha, Wisconsin. I am majoring in Early Education, Middle Education, and Special Education, and I am minoring in Psychology, Philosophy, and Sociology. I was actually born and raised in the Chicagoland area, so being back home for student teaching has been quite nice, especially since I plan to be a CPS (Chicago Public School) teacher! I have been placed at Grover Cleveland Elementary School, which is a PreK-8 CPS neighborhood school in Irving Park. I feel so at home in the amazing school community that GC has cultivated.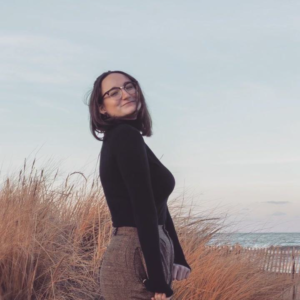 Me, enjoying the good weather at Loyola Beach!
Over the weekend, I took a few CS friends to some of my favorite spots in both Andersonville and Evanston: Brown Elephant thrift store, Crossroads Trading Company, Collectivo Coffeehouse, the Armadillo's Pillow bookstore, and the beach. We had a blast spending way too much money on things we did not need (but definitely wanted). It was much warmer when we went than it has been, so it was refreshing to be outdoors. I have my Professional Development course on Tuesday nights, and afterward, I go out to dinner with friends – we went to Eataly
(Downtown) last week and next week we are going to Medici (Hyde Park)! We also attended the CS Arts event together; this week it was the Jazz At Lincoln Center Orchestra with Wynton Marsalis: Wynton at 60. It was spectacular!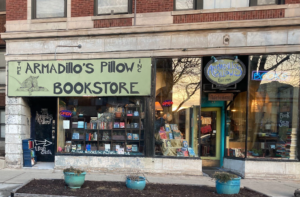 My student teaching experience thus far has been a whirlwind of learning, growing, and finding out new things about myself. I am already almost finished with my first placement! Right now, I am in a K-2 Special Education class, and this placement was my first one with students this young. It has definitely been an adjustment from working with middle schoolers! My cooperating teacher is friendly and supportive, and she understands the vast undertaking of the responsibilities that student teachers take on. She has been helping me every step of the way, which really eased my transition. I have been lead teaching since Valentine's Day and I will continue until March 4th. Starting March 11th, I will begin my final placement in an 8th-grade Inclusion classroom at GC. I recently began co-advising the middle school newspaper club after school, which has allowed me to meet some of my future students already. Other than finishing up my Professional Seminar requirements, my next placement is the last thing I need to complete before I graduate, which is both terrifying and exhilarating!
Thanks for checking in, I look forward to posting again soon!