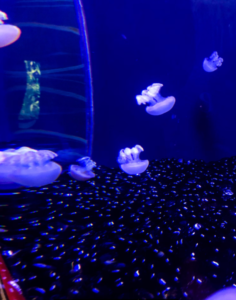 Chicago is starting to open up! This past week I was able to visit the Shedd Aquarium with some of my fellow nursing students. This trip was on the top of my list of must-see things in Chicago. Animals make me happy, so this trip was a great break from my homework and internship. To add to the excitement, there was a baby Beluga whale and dolphin born in the Spring that we were able to see.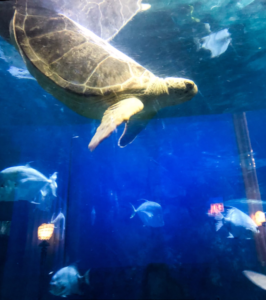 It was fun to feel like a kid again filled with the wonder of so many interesting creatures. My two favorite animals that we got to see was a sea turtle that was rescued, whose rear fins were damaged, and penguins! Penguins seem to have such funny personalities. It was entertaining to watch them interact with each other and their trainer. There were also some particularly ominous creatures such as the blood sucking lamprey and piranha that I could do without encountering in the wild.
Overall, this trip was the highlight of my week. I'm definitely tempted to go back before the end of the semester. I hope you enjoy some of the photos I've attached. The photos don't do the animals justice, but they do give a glimpse of their beauty. Thanks for reading!