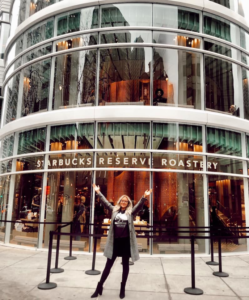 Aloha! My name is Mariah Kooyman. I am a senior Communication Studies Major at Central College in Pella, Iowa, which also happens to be my hometown. Pella is known for its hospitality, Dutch Letters, and Tulip Time, of course! My favorite quote has always been, "If your dreams don't scare you, they aren't big enough", by Muhammad Ali. For as long as I can remember, I have aspired to be a host on the Fourth Hour of the Today Show or an entertainment broadcaster on E! TV. When I decided to take a leap of faith and apply for Chicago Semester, I remember feeling that this was finally my chance to live out my small town, big city girl dreams.
When Hannah from CS started helping me look into internships in this field, I was quite nervous because I had no idea what to expect. However, she made me feel so confident and was very communicative throughout the entire process. Towards the end of December I received an email saying that I had been accepted for an internship at Indirap Productions. Indirap does everything from commercials, interviews, brand overviews, real estate content, product promotion, 360 & VR content, event coverage, training, live streaming, aerial cinematography and beyond. I am so grateful for the opportunity to work with such a phenomenal company, and absorb so much new information everyday. Getting to work on such a large-scale brings something new all the time whether I am on-set for a commercial, creating social media posts using Photoshop, brainstorming new content ideas, or interviewing a client for a video.
As an aspiring Instagram Influencer, I've been taking advantage of all of the amazing food, shopping, and Instagram-worthy spots in this fabulous city! It's so easy to get around the city on the CTA, and it seems like all of the best spots are within thirty minutes or closer. So far my favorite spots have included Three Arts Club Cafe, Sushi-San, The Hampton Social, The Starbucks Reserve Roastery, The Windy City Cat Cafe, the Friends Pop-Up, and more stores than I'll ever be able to count. Being in Arts and the City has been awesome too because we attend a different performance every week from plays about social justice issues to the Joffrey Ballet. Never a dull moment!
It's hard to believe this semester is almost half-way over, and I know it's going to be really hard to leave when the time comes! I'm looking forward to eating, adventuring, and Instagramming my way through this hectic but beautiful city in the time I have left.
XOXO,
Mariah Kooyman