Welcome back to the tea party!
There has been quite a lot going on in the past couple of weeks, I consumed four cups of coffee in one sitting (stay tuned to hear more on that one), I went to a rad art exhibit called "Womanish", and I thrifted the day away in Wicker Park to the point where I was actually having leg cramps. Our Semester supervisors keep telling us that we are at the midway point in the semester, which I am personally refusing to believe. Since we are half way through, my Social Justice class had our final in-person class this Wednesday *sniff, sniff*. I have been loving the chance to explore neighborhoods in Chicago and further discover what justice means in out communities. I am going to miss getting together with those hooligans and discussing how to solve all life's problems with them whether it be gentrification or what taco place we should go to for dinner…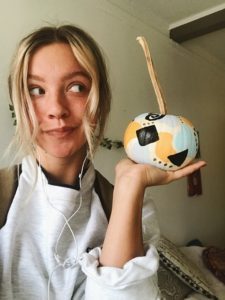 As the temperatures start to drop and painting and carving different gourds for entertainment becomes normal once again, I still have a million +1 things to do on my Chicago list. Understanding the train system, something I thought to be impossible, has become like a second instinct to me. Sometimes I bump into people on the street and say "Aye, watch where yuh going", just kidding that's totally a New Yorker thing to do.
At this point in the semester most of us have found our routine. We head to our internships and learn a whole bunch about the workforce, we have our classes on Wednesdays, and we adventure on the weekends. My amazing bosses have been working with me to teach me about digital marketing as well as entrepreneurship and how to create a start up business! I am learning more and more about what I want to do as well as what I feel called to after graduation.
All right story time. As a coffee fanatic I have been curious about the infamous Starbucks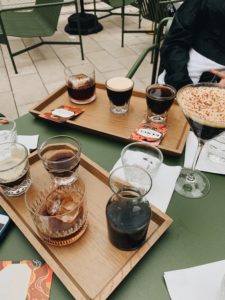 Reserve located downtown, I thought it was just a glorified coffee shop to suck tourists money… (which it probably is) but GUYS. It is like Charlie and the Chocolate Factory but with coffee. All of our baristas were so giddy, I suspect coffee as the culprit of their kindness. I sat there for three hours sipping on aged whisky barrel cold brew and two free flights of espresso, sort of in a caffeine heaven. To give you a better idea of what we were working with I have included a picture as evidence for me basically jumping back to Canterbury on the caffeine buzz.
Oh-and I just finished my cup of tea! Perfect timing…. have a gourd-eous day!
-Mikaela Van Soelen