I can't believe it has almost been 2 months so far. When I first got here, I was excited and just trying to find my way around the city, doing class, and waiting to start my internship. Now I am in my financial planning internship and trying to enjoy everything Chicago has to offer from free concerts to delicious food. My internship at Envision Wealth has gone very well, and I am learning a lot about the field. New challenges at work are something I look forward to.
We had a community dinner last week where we got to have everyone from the different disciplines together for deep dish pizza and hear from an amazing speaker. That weekend, we had a Spanish Dance Ensemble performance to see for our Arts in the City class. It was something unique that I wouldn't have been exposed to without our class. I even saw the new James Bond movie with a friend who happened to be in the city. While it is great to be going out, sometimes you just need a night inside. I have been watching Netflix documentaries, playing video games on the Nintendo Switch, and cooking with my new friends I met here. Chicago Semester has been such a great decision for me, and I am looking forward to the next two months!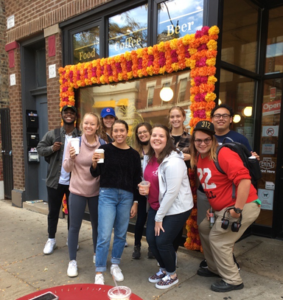 Here's me on a field trip (in the back on the very right) with my Social Justice class!