The Love for Adventure
Chicago, The Windy City, the home of curious, adventurous souls. The city is like layers and layers of clothes on a winter night, you just can't get enough of. Moving into the city from a small, private college has changed my whole mindset of reality. There is life and movement in every turning corner. I always thought to be in love with the tranquility of small, suburban community, but this city life is really growing in me! I can now comprehend why everyone loves The Windy City. The love for new chapters and awakened passions exists in a blink of an eye.
Starting a new chapter of life is never easy, yet I feel right when I'm meant to be. I am currently working at New Moms, just west of the loop in the Austin community. It is a non-profit organization that provides services to young moms. This program encompasses several services from transitional housing, job training and family support. Already in my third week as a Support Employment Specialist Intern, I can see this organization is more than the services they provide. It is more than just the professional staff that provide exceptional help to these young moms. It is the love and passion that exists between the staff members and participants. The excitement I encounter to go into my job everyday not just with a case manager lens, but with the disposition and warmth of a friend. I have learned it is the love for the neighbor, the passion to blossom, that organizations like New Moms strive for each day.
It's the beginning of February and mother nature likes to call the shots. Still here and there I will adventure around the city. Aside from working and attending classes I use the weekends to explore. So far, I have taken walks on the few days when the weather is warmer. At night especially, it's beautiful to walk around. The Christmas lights and beauty I find in art around the city is captivating. Within minutes, going down State Street there are several elegant restaurants and stores. Of course, sightseeing is always aesthetically pleasing and doesn't cost a dime. When I am looking for a place to just have fun and relive memories, Dave and Busters is the place! In just a 10-minute walk from my apartment, I can find myself in an arcade/restaurant. Before leaving I do make sure my wallet is a little heavy, since it can also be pricey. Every once in a while splurging with friends does not harm anyone! After all, it is part of the adventure!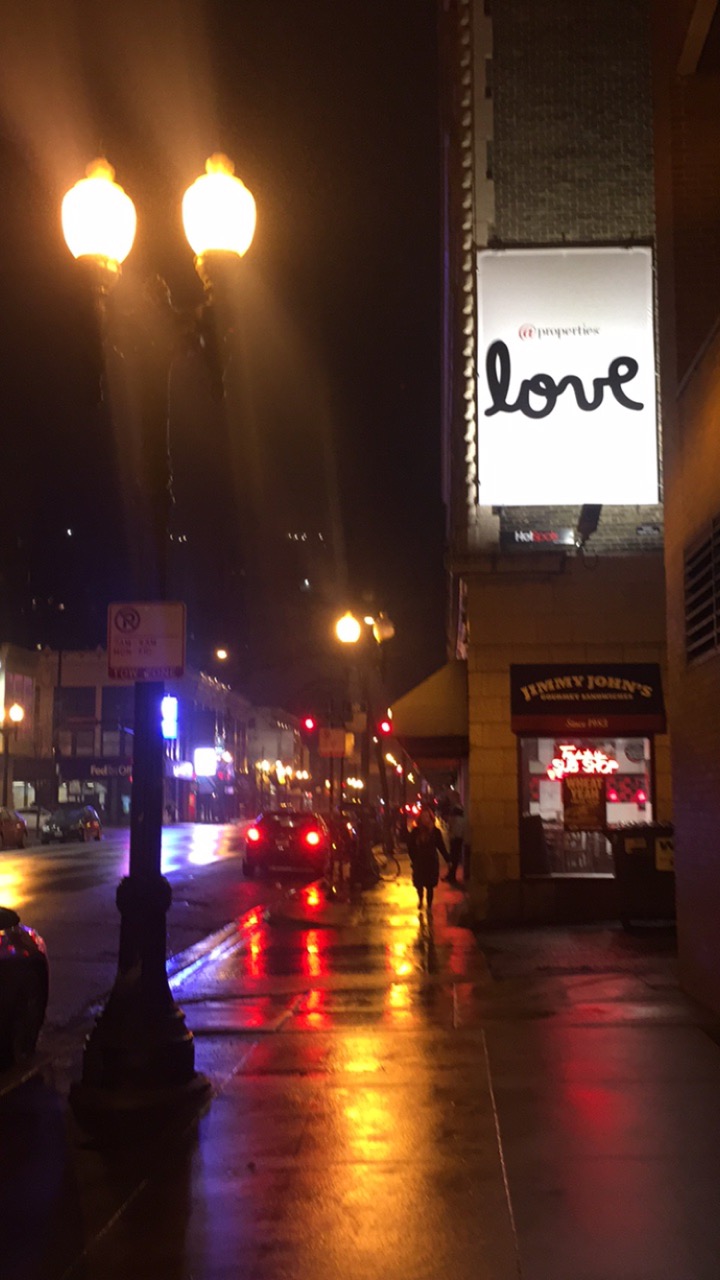 I have learned in these couple of weeks being part of Chicago Semester, it does not matter where I go in life. It does not matter who I share moments with or how I share them, what matters is with what heart disposition I share them. Love is greater than any force of nature combined. When I adventure past my comfort zone, with a love to grow and encounter new things, great things happen. No change can ever hurt when a spark of love exists in the process. Changing from a small, private college was less stressful than I imagined. And being a stranger to an organization that yields outstanding work to a population in need, was less hard than I thought. Looking back, I understand why a young woman like me can so easily fit in a new, strange environment. There is passion to explore the unknown, there is love to help the less fortunate, and there is curiosity to adventure past the already known.