Alright, here we go! One last go around. It is mid-late December and my time with the Chicago Semester has officially come to a close. I know I have stated this in my previous blogs, but I honestly cannot fathom how fast these past four-ish months have gone. It seems like just yesterday I was moving to Chicago, meeting my coworkers/supervisors, and nervously (and probably too loudly) introducing myself to the rest of the Chicago Semester students.
My time here in Chicago has been such a fantastic experience for me personally, professionally, as well as spiritually. I have been able to meet tons of new people with new backgrounds, ideas and experiences.
Honestly, my favorite part of my time here in Chicago has been my internship. I have been able to learn so much about the Board of Trade, futures contracts, and supply and demand. The firm I work with, A&A Trading, works primarily with the agriculture commodities, and every day I am fascinated with how heavily related the futures prices being traded here in Chicago are related with things that are going on at the farms and packing plants back home!
Through work, I have been able to meet an abundance of people who are in the business and have been in this business for a long time. Sometimes the trading floor is described as a high school. There are so many people there and everyone knows someone who knows someone else. It's almost a constant game of Dutch Bingo, when meeting someone new you find out who you both mutually know. I am really going to miss some of the friends that I have made on the trading floor, and I am dreading saying goodbye.
My coworkers have also been fantastic to me.  They have told me many new places and activities to check out during my time in the city. They have also brought me to many of these places and experienced them with me. They are also very familiar with the business and they have even helped me do some speculative trading of my own, which has been fantastic!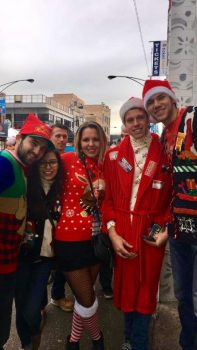 My time with Chicago Semester activities has also been great. These past few weeks have been packed full of class trips, projects, art events, and social events outside of class. I've been able to explore and study neighborhoods and communities within the city, and learn what has shaped them into what they are today.
My favorite class this semester has been Arts and the City. In past blogs, I have talked about some different art events that we attended. Recently, we have attended a concert/dance event, a theatre production on Michigan Ave., and a musical. I've had a blast traveling all over the city for these art events and being able to experience a wide range of events that I would have never had the chance to attend otherwise.
I think I can say that I have successfully lived, learned, explored, and thoroughly enjoyed myself here in the Windy City. This is coming from the Iowa kid that is fresh of the farm. So, if I can do it, I'm pretty confident that most anyone can.  I am looking forward to returning to Dordt for one final semester before graduation, however, I can about imagine how much I am going to miss the fast- paced city. The vast amount of entertainment, activities, and people are simply addicting and so fun to be a part of. Friends and I have taken advantage of these events, going to Christmas parties, checking out new restaurants, and even having our own Friendsgiving.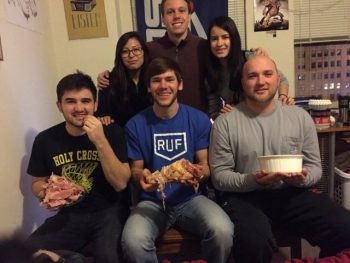 As the Chicago Semester has come to a close, my supervisors asked if I could stay on board at my internship for an extra week or so, and I accepted with pleasure! I have a few days left here in the city, but after that, back to the farm I go!