Fall is officially here!
It is week 9 here in Chicago for me, which is honestly crazy to believe. How time flies! It is really starting to cool down here, as well as everywhere else in the Midwest. Today's high was around 50 degrees, which is totally okay with me honestly.
My internship is really beginning to pick up and I have been enjoying it. I have been taking on more and more responsibility throughout this busy season which is something I really enjoy.  The amount of important people in the business I have been able meet on the trading floor is phenomenal. Each of them has their own perspective on the markets and they all say they love seeing me, a young person, on the trading floor interested in learning more about the business. Many of these individuals are also very intrigued by my farming background and enjoy hearing about how these commodities are actually produced. This makes it really fun for me! I love bridging the gap between supplier and consumer. I've also had the chance to meet, and talk with Rick Santeli, who is on MSNBC news every day doing market reports live from the CME Trading floor. During my first few days of interning my coworkers made sure to have me walk directly behind him while he was filming live so that I could be on TV. I think this also served as my initiation to the business, which I thought was pretty fun.
The City life has been good to me. I still really enjoy the fast pace of everything! Also, I haven't gotten on the wrong train in about three weeks. Does that mean I'm practically a local now? There are so many people in such a small area in the city, it creates so many cool ideas flowing around in such a concentrated area. It's magnificent. It has been fantastic checking out different restaurants, stores (specifically thrift stores), as well as different parks and churches. I have made an effort to get out and try a bunch of different things while I'm here. One of my favorites is the Signature Lounge on the 95th floor of the John Hancock Building. There is a restaurant at the top of the building and it's fantastic. You can see the whole city! It's a bit pricey, however it is definitely worth it, considering the view.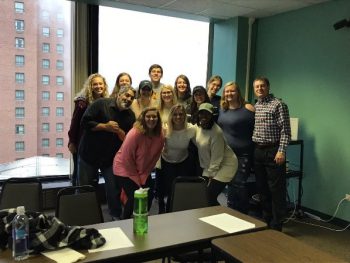 Classes have been picking up and have been super enjoyable as well. For Arts and the City class we continue to go to one art event each week. A couple of weeks ago we went to the small play production called "Our Town." As you could probably guess, it's about folks living in a small, rural town. This play really hit home for an Iowa boy! During our next class, one of the actors who also works full time with the theatre was able to come and talk to our class! We had a great conversation with him about diversity in our workplaces, as well as in theatre. This week we had the chance to attend the Chicago Symphony Orchestra! This was definitely a one-of-a-kind experience!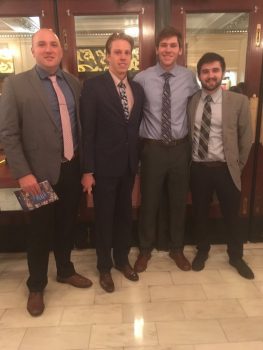 Also, in our Diversity in the City class we toured the Humboldt Park neighborhood and learned about gentrification and the effects that it has on neighborhoods and the culture of those neighborhoods, another very intriguing issue for a small town Iowa boy.