Homegrown Event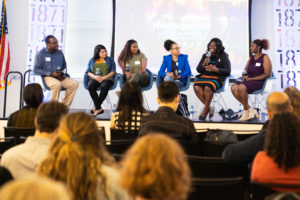 On Monday, September 16, Chicago Semester hosted Homegrown: Stories From Food Start-Ups in Chicago as part of our ongoing celebration of 45 years as a program. 1871's auditorium provided a beautiful venue for the event which featured entrepreneurs of color who had built food businesses in neighborhoods across the city. Attendees had an opportunity to taste delicious food samples from the start-ups featured and hear stories about their professional journeys and the impact they are making on their communities of place. The following start-ups were featured at the event.
Brittney Kee Floral Designs
Back of the Yards Coffee
Cleo's Southern Cuisine
Exquisite Catering & Events
Justice of the Pies
Kuysana Cafe 
Chicago As Our Campus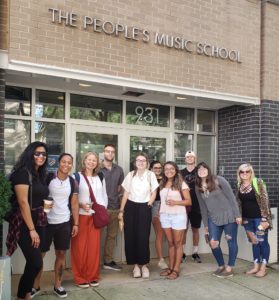 This fall, we began holding classes in neighborhoods across the city. This approach allows students to learn histories and current stories of Chicago communities while developing skills in observing patterns of social life. Pictured is our Social Justice class in the Uptown neighborhood. Students have also explored the Bronzeville, Pilsen, Lakeview, North Lawndale and Rogers Park neighborhoods examining the challenges of  affordable housing, gentrification and mass incarceration. Through visits to neighborhoods, observations in Chicago courtrooms and conversations with practitioners, students have engaged more closely with groups working to cultivate strong communities and address injustice in Chicago.
Annual Staff Trip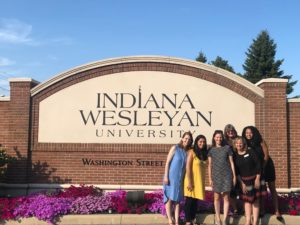 For the past three years in early September staff have taken to the road to visit faculty and staff at our partner campuses. This year, staff headed to Indiana to visit with colleagues at Taylor, Anderson, Indiana Wesleyan, Huntington and Bethel. These visits allow us to deepen relationships with our current partner institutions, cultivate new relationships and expand.
Upcoming CEU Event
Join us on Thursday, October 3, for an interactive workshop which using self-assessment exercises and group discussion to enhance participants' practice with professional boundaries. Facilitated by Dr. Shanel Bishop, PhD, LMSW, we will explore case studies and situations which present significant ethics issues such as dual relationships and gatekeeping. In partnership with Trinity Christian College, this workshop will provide the opportunity for LSWs, LCSWs, LPCs, LCPCs and Licensed Psychologists to earn 3 CEUs. To learn more or register for the event, click here.