Spend an experience-building semester in Chicago.
Our 16-week semester program delivers a custom-tailored Chicago experience designed to help you prepare for your chosen career – and life after college. We work closely and collaboratively with you to place you in a full-time internship that matches your interests. Plus, you'll take a professional seminar and up to two courses for academic credit, depending on the track you select.
The tracks we offer:
Art, Design & Theatre
Business, Finance & Accounting
Marketing & Communications
Health & Applied Sciences
Social Sciences & Humanities
Nursing
Social Work
Student Teaching
Spanish Bilingual Program
City Fellows
WHY ARE INTERNSHIPS SO IMPORTANT?
In today's highly competitive job market, professionally relevant experience sets you apart. You can count on a Chicago Semester internship to help you:
Strengthen your resume with pertinent employment experience
Achieve tangible success related to your professional field of interest
Make informed decisions as you launch your career
Prepare for the demands of full-time professional work
Build a network that opens doors to jobs and mentors
Nearly 80% of 2017-18 CS students were offered references from their supervisor for future positions.
Questions?

Ask Kelsey Brooks,
our Coordinator of Recruitment & College Relations
Do you have a question about what you see on this page? Let me know. I would love to talk about how to make Chicago Semester possible for you!
Read Kelsey's Bio

➝
Say Hi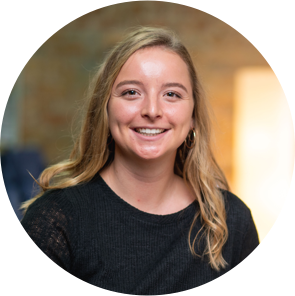 HEAR FROM A CHICAGO SEMESTER ALUMNUS
"The value of having an internship downtown Chicago is that you see and experience so much more than if you were in the suburbs or small town where your college is located. The needs here are vast, the stories and experiences have more variety, and everything moves at a fast pace. Working in a setting for four days a week is basically as if you were full time, giving you a well-rounded experience. The classes allow for reflection and learning about the city, and the internship gives you insight into a place that you might or might not want to work someday. Chicago Semester is filled with resources, and the value of having them at your fingertips to learn from is great. I have learned not only about the field of social work this semester, but also myself and my values."
– Allison Gartman
'18, Internship at North Side Housing & Supportive Services