Increasing Program Visibility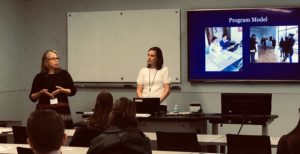 Chicago Semester staff have been active this fall making presentations as part of our initiative to increase our visibility as a leader in urban experiential education. Staff have presented:
"Leadership and Calling: Connecting Experiential Learning with Life's Big Questions," CS Faculty, Rebecca Burwell at the National Society of Experiential Education's Annual Conference
"Our Lease is Up: Finding Creative Solutions for Learning Spaces," Executive Director, Mackenzi Huyser at the National Society of Experiential Education's Annual Conference
"Gendered Transitions: Women's Experiences of Experiential Education," Rebecca Burwell and Mackenzi Huyser at the Chicago Research Summit
"Adding the edTPA to the Student Teaching Semester: Lessons From a Small Program," Student Teaching Program Director, Lisa Hensey, at the Midwest edTPA Conference
Students Engage in Powerful Art Events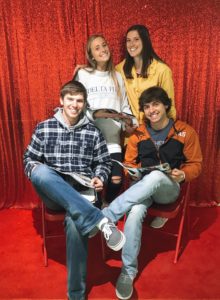 Memorable and inspiring fine art events take place each week for Chicago Semester students. This fall students have viewed exhibits at the Hyde Park Art Center (pictured), enjoyed performances at The Den Theatre, listened to music at Chicago Temple and attended many other enriching events. After seeing the play, Tiny Beautiful Things, at Victory Gardens, Chicago Semester student, Angie Lee, shared,
"This was one of the most powerful, beautiful plays I have ever watched. The play took place in a small theater, with a cast of only four actors… the stories told from that stage were of the most painful, precious, angering, confusing, joyous moments in people's lives and the small things in life that make us human, things that help us live on in this broken beautiful world. This will remain in me a special moment and memory for a very long time."
Chicago Semester Hosts Professional Development Event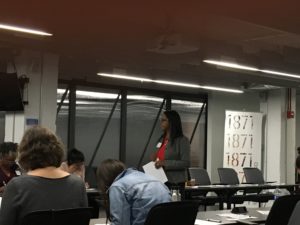 In early October, Chicago Semester hosted, Charting Boundaries: A Workshop on Professional Boundaries and Ethics. The workshop offered an opportunity for professionals in the fields of social work and psychology to consult with each other regarding professional boundaries and ethics. Dr. Shanel Bishop offered several resources on the topic and provided insights as the group brainstormed case studies and experiences with issues such as dual relationships.
Inviting You to Join The Story
In early November, Chicago Semester alumni and friends will receive an invitation to celebrate the impact of their Chicago Semester story by sharing a gift to support future generations of students on their vocational journey. Want to make sure your information is up-to-date? Visit our Get Involved page and fill out the Get Involved form to stay connected with Chicago Semester.
Alumni Visits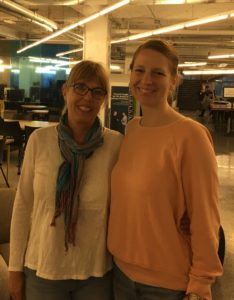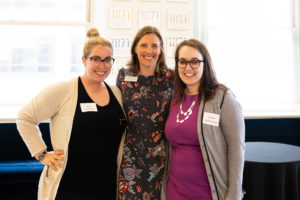 We love visiting with Chicago Semester alums! Check out those who recently stopped by 1871. Email Hannah Kiefer, Coordinator of Internship Placements and Alumni Engagement, at hannah.kiefer@chicagosemester.org to schedule a visit and recieve a shout-out in our monthly newsletter! Pictured is Polly Tamminga Allard '82 with Hannah Kiefer and Gina Ciametti '13, Mackenzi Huyser and Jenny Ackerman '13.