Art, Design & Theatre
Experience the fine art and design world in a global city teeming with possibility, creativity and top professionals in these fields. You may find yourself interning at the Museum of Contemporary Art, assisting with the production of plays at award-winning theaters like Lifeline Theater or the Chicago Children's Theatre, or working under designers and artists at sites as diverse as The Field Museum to LATITUDE. Chicago Semester also opens doors to these fields in other cities by enabling you to become part of a rich network of national arts and cultural institutions.
FYI
Chicago is home to more than 250 theatre companies and is the birthplace of storefront theatre and improv comedy. Experience the creative energy firsthand through Chicago Semester.
Site Highlight
Chicago Children's Theatre
Chicago Children's Theatre is dedicated to creating awe-inspiring theatrical productions and programs that inspire young people and families to lead lives of adventure, courage and curiosity. Students interning here will have the opportunity to support the theater in a variety of areas, from marketing to education to stage production.
Site Highlight
Lifeline Theatre
Driven by a passion for story, Lifeline Theatre's theatrical and educational programs foster a lifelong engagement with literature and the arts. A cultural anchor of Rogers Park, Lifeline is committed to deepening its connection with an ever-growing family of artists and audiences. Students interning here work in a variety of areas, from marketing to casting to production.
Internship Placement Process
Submit your program application, references, resume, transcript and essay responses to Chicago Semester.

We review your materials, work with you collaboratively to create a polished resume ready for professional review and send these to potential internship sites.

You interview with potential internship sites and prioritize which opportunity is the best fit for you.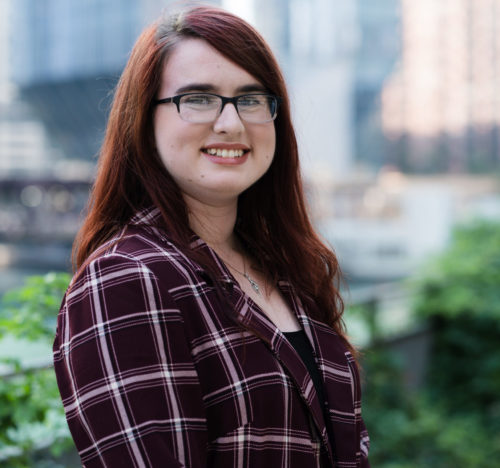 Hear from an Art, Design & Theatre Alumnus
"The experience of living in Chicago gave me important insights on how I want to live when in my theatre career: work style, my personal people needs, etc. This program is a great dunking-for-apples like look at what adulthood outside of college can be like."
– Angie Wintering
Class of '21, Internship at Rivendell
Professional Seminars and Courses
Professional Seminar (Interdisciplinary) - Fall, Spring and Summer
This field education internship experience provides hands-on practice in the knowledge and skills learned in major courses. You will develop a learning contract for focused areas of development and learning, and are mentored and supervised at the site by professional staff with experience in the area of practice. You will also be supervised by Chicago Semester staff through a weekly professional seminar course and through midpoint and final site visits.
Arts in the City - Fall and Spring
This course investigates urban cultural life as reflected in the arts of Chicago. We will attend plays, concerts, movies, and visit art galleries. We will process these experiences through readings, lectures and classroom discussion as we explore how Christians engage culture.
Diversity and Inequality: Engaging Chicago Cross Culturally - Fall, Spring and Summer
This course introduces the culture, history, assets and challenges of Chicago neighborhoods. We will examine our own social and cultural locations, and compare and contrast how our stories are similar to or different from the Chicago racial and ethnic landscape.
Social Justice - Fall and Spring
This course will introduce students to major streams of social justice thought, including the history of the criminal justice field and contemporary movements for social justice. We will examine the role of race, poverty and inequality in people's experiences of the criminal justice system in the U.S. As a class we will discuss how marginalization, segregation and the lack of access to social resources influences people's experiences of justice. We will also explore two major issues related to justice: mass incarceration and mass eviction. Finally, through conversations and visits with practitioners, advocates and organizers we will look at models of restorative justice and how communities address issues related to injustice.
Values and Vocation: Reflections on Work and the Common Good - Fall and Spring
This course explores the concept of vocation from a variety of perspectives. Drawing on readings from religion, theology and sociology, we will examine the ways in which we discern our calling in light of our responsibility to engage the common good. We will also look at social structures that impact work and family life (gender, race, religion and class) and how they might shape our understanding of vocation.