Nursing
Completing your nursing clinical experience in Chicago will give you the professional knowledge and skills to launch your nursing career in a variety of healthcare settings, whether you choose to practice in a big city or a smaller town. Chicago Semester often proves invaluable in landing that first full-time job after graduation, since many of our program alumni are hired by the community-based settings where they complete their clinical placement. If you're working toward a Bachelor of Science in Nursing (BSN) degree, you can fulfill your clinical placement requirements through Chicago Semester. You will be placed in a medical setting under the supervision of a BSN qualified preceptor. The Nursing track is available in the Spring semester only and requires a 3.0 GPA or higher.
FYI
Chicago Semester has strong connections with the leading teaching hospitals and community health settings across the city, ensuring you a top-quality semester-long clinical experience.
Internship Placement Process
Submit your program application, references, resume, transcript and essay responses to Chicago Semester.

We

 

review your clinical area interests and find the best match in one of Chicago's community based settings.
Questions?

Ask Michelle McClure, DNP, FNP-BC,
our Nursing Program Director
Do you have a question about what you see on this page? Let me know. I would love to talk about how to make Chicago Semester possible for you!
Read Michelle's Bio

➝
Say Hi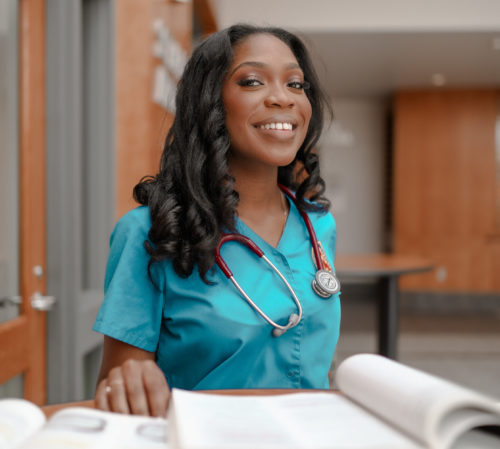 Hear from a Nursing Alumnus
"Through this internship I was able to take on a full patient load, evaluate cultural competence in the provision of professional nursing care to my patient, practice skills learned in skill lab in nursing school, and finally function as a new graduate nurse… being able to excel and succeed within the clinical setting, this mentally prepared me for my future endeavors when finding a job, and for that, I am extremely grateful."
– Kesline Seneca
Class of '21, Nursing
Professional Seminars and Courses
Nursing Internship/Professional Seminar- Spring only
The nursing internship and professional seminar is supervised by the Chicago Semester Director of Nursing in cooperation with Hope College and a contracted healthcare agency. Designed to deepen your socialization into professional nursing, it focuses on issues and services related to healthcare in an urban context as well as leadership and management roles that enhance your transition from student to professional RN. You will complete an internship selected from a wide range of quality clinical specialties to synthesize the concepts and philosophies of nursing from previous college courses and to develop the competencies and skills necessary for the beginning roles of the professional nurse. The weekly professional seminar focuses on NCLEX review and discussions of the professional nurse, social justice and healthcare, Christian worldview, diversity and vocation.
Arts in the City - Fall and Spring
This course investigates urban cultural life as reflected in the arts of Chicago. We will attend plays, concerts, movies, and visit art galleries. We will process these experiences through readings, lectures and classroom discussion as we explore how Christians engage culture.
Diversity and Inequality: Engaging Chicago Cross Culturally - Fall, Spring and Summer
This course introduces the culture, history, assets and challenges of Chicago neighborhoods. We will examine our own social and cultural locations, and compare and contrast how our stories are similar to or different from the Chicago racial and ethnic landscape.
Social Justice - Fall and Spring
This course will introduce students to major streams of social justice thought, including the history of the criminal justice field and contemporary movements for social justice. We will examine the role of race, poverty and inequality in people's experiences of the criminal justice system in the U.S. As a class we will discuss how marginalization, segregation and the lack of access to social resources influences people's experiences of justice. We will also explore two major issues related to justice: mass incarceration and mass eviction. Finally, through conversations and visits with practitioners, advocates and organizers we will look at models of restorative justice and how communities address issues related to injustice.
Values and Vocation: Reflections on Work and the Common Good - Fall and Spring
This course explores the concept of vocation from a variety of perspectives. Drawing on readings from religion, theology and sociology, we will examine the ways in which we discern our calling in light of our responsibility to engage the common good. We will also look at social structures that impact work and family life (gender, race, religion and class) and how they might shape our understanding of vocation.