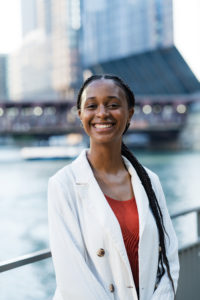 When Jessica Daniels graduated from Howard University (Washington D.C.) in Spring 2021, she had plans to attend law school with her degree in Political Science and Criminology. She knew she needed an internship to help her law school application stand out, but struggled to find an opportunity that both fit her passion for reforming the criminal justice system and also fulfilled her financial needs for the summer. Encouraged by her mentors, Jessica came to Chicago Semester and secured a paid internship as a recent graduate through our City Fellows summer program.
We need your help and generosity to continue creating these opportunities for students like Jessica.
Jessica's internship with Illinois Prison Project, a nonprofit organization in Chicago that works for a more sensible and humane prison system in Illinois, helped her realize she could launch her career in many different fields:
"These past two months of my life have been extremely meaningful. I don't think I've fully grasped how influential this time in my life is to the foundations of my future… I have a firmer grasp on things that I was extremely worried and disheartened about just months ago. Through personal self-care, spiritual development and the work I've done at IPP, I am getting closer to understanding who God has created me to be."
Because of this powerful experience though Chicago Semester, Jessica is now working as the Public Benefits Outreach Coordinator at Legal Aid Chicago through AmeriCorps, and exploring graduate degree options which focus on non-profit management.
Did you know that the two most common factors preventing students from taking an internship is the need to keep a current paid job and insufficient pay to cover their expenses? Because of creative pathways like Chicago Semester's City Fellows program, Jessica and countless other students are confidently emerging as professionals, becoming thoughtful leaders in their fields. Your contributions make these pathways possible.
Will you help provide the support students like Jessica need to pursue meaningful internship opportunities?
Help us raise $30,000 so we can provide financial stipends to 15 more City Fellows students this next year, as the program opens up to fall, spring and summer students for the first time. Your gift to the Chicago Semester Fund will ensure that more students like Jessica can access the life-changing opportunities they need to emerge as professionals.
Contribute online at give.chicagosemester.org. Thank you — your gift this year will help Chicago Semester continue to change lives.

Mackenzi Huyser, PhD
Executive Director