City Fellows
The City Fellows Program was launched as a way for Chicago Semester to partner creatively with nonprofit sites working to address significant challenges in Chicago. You'll have an opportunity to complete a professional internship experience that serves your neighbors in Chicago, and be eligible for a stipend for your work. Chicago's thriving non-profit sector offers limitless opportunities to make an impact on various communities in the city. Apply today!
FYI
Did you know there are more than 50,000 registered 501(c)3s (non-profits) in Chicagoland? Combined, these Chicago area nonprofits employ over 850,000 people - a robust network of professionals for you to join.
Site Highlight
L'Arche Chicago
L'Arche helps adults with intellectual disabilities to lead happy, fulfilling lives. L'Arche's mission is to celebrate the unique value of each person and creates lifelong places of belonging through small, residential homes that empower residents to share their gifts with their neighborhood, city, country and world. Read the Spring 2022 City Fellows internship description here and the Assistant Info sheet here.
Site Highlight
Illinois Prison Project
The Illinois Prison Project is a young nonprofit organization in Chicago that seeks to reduce mass incarceration by providing legal services to individuals incarcerated in the Illinois Department of Corrections. They focus on novel and creative approaches to prison reduction including mass commutation campaigns, sentence restructuring, public education and advocacy. 
Site Highlight
Pui Tak Christian School
Pui Tak Christian School's mission is to equip young learners academically and spiritually to be future leaders for God's Kingdom. Its vision is to see children rise to their potential and succeed in all spheres of life with joy and strength of character. A Summer 2022 City Fellows student may select either the JumpStart Teaching Internship or the JumpStart Administrative Internship.
Site Highlight
Silk Road Rising
Silk Road Rising is a community-centered art-making and arts service organization rooted in Pan-Asian, North African, and Muslim experiences. Through live theatre, digital media, and arts education, they challenge disinformation, cultivate new narratives, and promote a culture of continuous learning. Read the Summer 2022 City Fellows internship description here.
Site Highlight
Chicago Semester
Our mission is to provide urban experiential education from a Christian perspective that equips students for integrated personal, professional and public lives. Through this Advancement & Communications Internship, you will have the opportunity to develop skills in the area of communications, time management, organization and event planning. Read the Summer 2022 City Fellows internship description here.
Site Highlight
One Million Degrees
One Million Degrees is the only organization in Illinois providing wrap-around supports to highly motivated community college students to help them succeed in school, in work, and in life. From tutors and coaches to financial assistance and professional development, OMD offers the support that empowers scholars to transform their lives and those around them for generations. OMD has 4 City Fellows internship positions available for Summer 2022. Talk to CS staff about these roles in Communications, Programs, Operations and Human Resources.
Site Highlight
Bright Endeavors
Bright Endeavors is a social enterprise that lights the way for young moms and their kids. Artfully hand-poured by the young moms in a paid 16-week job training program, each Bright Endeavors candle lights the way toward strong families and bright futures. 100% of sales support the mission. Read the Social Media internship description here.
Internship Placement Process
Submit your references, resume, transcript, essay responses and City Fellows Program application, along with your Chicago Semester application.

We review your materials, work with you collaboratively to create a polished resume ready for professional review, and send these to qualifying City Fellows internship sites.

You interview with qualifying City Fellows internship sites and prioritize which opportunity is the best fit for you.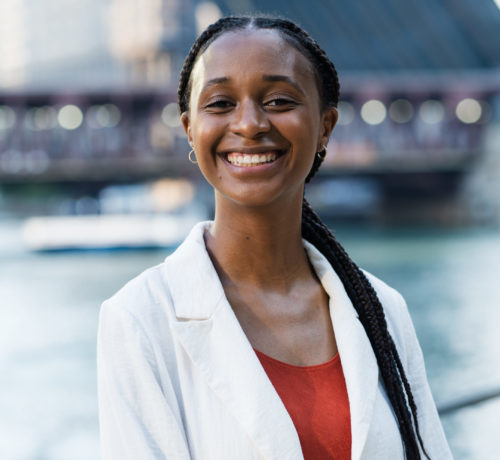 Hear from a City Fellows Alumnus
"I believe that the internship experience is unmatched as well as the professional development. I was very blessed to have the internship site that I did... IPP really gave me a closer look into the legal justice system and inspired me to work within the non profit sector. It has expanded my understanding of the numerous jobs and opportunities available to make effective change in the legal justice system. This internship was vital to helping me make more informed decisions about my future goals."
– Jessica Daniels
Class of '21, Internship at Illinois Prison Project
Professional Seminars and Courses
Professional Seminar (Interdisciplinary) - Fall, Spring and Summer
This field education internship experience provides hands-on practice in the knowledge and skills learned in major courses. You will develop a learning contract for focused areas of development and learning, and are mentored and supervised at the site by professional staff with experience in the area of practice. You will also be supervised by Chicago Semester staff through a weekly professional seminar course and through midpoint and final site visits.
Arts in the City - Fall and Spring
This course investigates urban cultural life as reflected in the arts of Chicago. We will attend plays, concerts, movies, and visit art galleries. We will process these experiences through readings, lectures and classroom discussion as we explore how Christians engage culture.
Diversity and Inequality: Engaging Chicago Cross Culturally - Fall, Spring and Summer
This course introduces the culture, history, assets and challenges of Chicago neighborhoods. We will examine our own social and cultural locations, and compare and contrast how our stories are similar to or different from the Chicago racial and ethnic landscape.
Social Justice - Fall and Spring
This course will introduce students to major streams of social justice thought, including the history of the criminal justice field and contemporary movements for social justice. We will examine the role of race, poverty and inequality in people's experiences of the criminal justice system in the U.S. As a class we will discuss how marginalization, segregation and the lack of access to social resources influences people's experiences of justice. We will also explore two major issues related to justice: mass incarceration and mass eviction. Finally, through conversations and visits with practitioners, advocates and organizers we will look at models of restorative justice and how communities address issues related to injustice.
Values and Vocation: Reflections on Work and the Common Good - Fall and Spring
This course explores the concept of vocation from a variety of perspectives. Drawing on readings from religion, theology and sociology, we will examine the ways in which we discern our calling in light of our responsibility to engage the common good. We will also look at social structures that impact work and family life (gender, race, religion and class) and how they might shape our understanding of vocation.